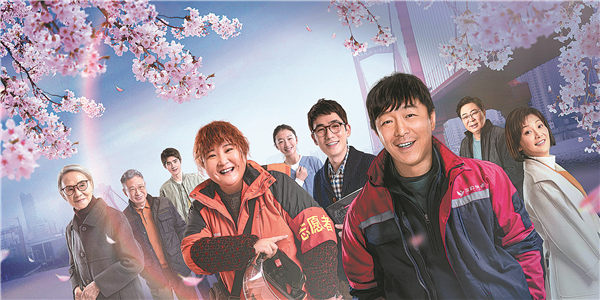 A director returns to acting, portraying a delivery woman in Wuhan, Xu Fan reports.
Jia Ling, with her directorial debut Hi, Mom, a hit that raked in more than 5.4 billion yuan ($847 million) last year, overtook Patty Jenkins, best known for Wonder Woman, to become the world's highest-grossing female director for a single film.
There is no sign that the filmmaker will return to the director's chair, but Jia, also a popular comedy actress, has turned a lot of heads with her latest acting effort in Embrace Again.
The film, based on true stories about people in Wuhan when COVID-19 broke out there two years ago, is directed by Xue Xiaolu, one of China's most commercially successful female directors known for the romantic franchise Finding Mr Right.
Embrace Again has grossed about 650 million yuan since it was released on Dec 31.
Unlike previous similarly themed films such as Chinese Doctors, the new title employs a bright tone to interweave four tales through a parallel narrative, all featuring a sense of romance, a signature characteristic that has helped Xue make her name.