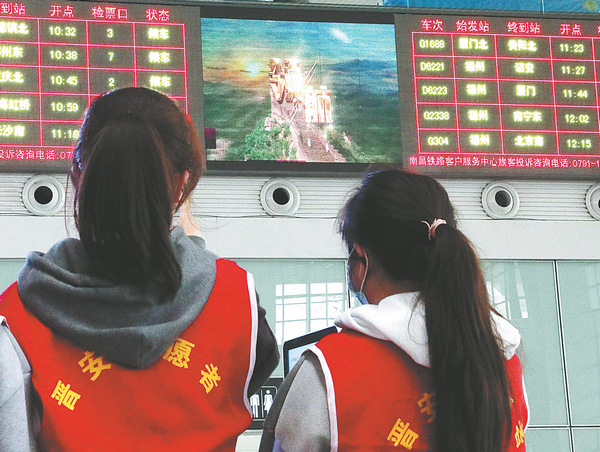 In celebration of the New Year, people across the country sang the Chinese song, Ling Hang.
The song, which means to "pilot "or "navigate", was composed by Kang Zhuqing and was first performed by a massive ensemble at the end of a show, titled The Great Journey, a four-part epic gala staged at Beijing's iconic National Stadium on June 28, to celebrate the centenary of the founding of the Communist Party of China.
The Great Journey traced the Party's century-long history, from its revolutionary victories and the construction spree in the early days of the People's Republic of China to the unprecedented changes brought about by the policy of reform and opening-up in recent decades. The song was performed with fireworks lighting up the sky as the celebration reached its crescendo.
During various year-end gala broadcasts produced by Chinese TV stations, the song was performed by star singers, including pop singer Zhang Liangying, tenor Wang Chuanyue, soprano Yin Xiumei and baritone Liao Changyong.
A music video of the song, produced by Beijing Radio & Television Station, was also released on New Year's Eve, featuring celebrity singers, such as soprano Yao Hong and tenor Wei Song. The video displays iconic sites to reflect the Party's history, including the memorial site of the First National Congress of the Communist Party of China in Shanghai and Jinggangshan in East China's Jiangxi province, which is home to the first rural revolutionary base of the Party.
"I spent three days composing the song, which is like a poem and an ode to the country," said composer Kang in an earlier interview. Graduating from the music school of Minzu University of China, she has composed for galas, such as the annual CCTV Spring Festival gala, one of the most-watched TV productions in the country. She also mentioned that she has traveled to former revolutionary bases of the CPC, where she learned about the history of the Party and stories about the nation's many martyrs.
The song was also performed by people as a way to celebrate the New Year. For example, 26 students and teachers of the Central University of Finance and Economics performed the song together and shared the video on the university's social media.
"I participated in the grand ceremony celebrating the Communist Party of China centenary at Tian'anmen Square on July 1.When I sang the song, that day flashed back vividly and it made me feel very proud," said Zhao Jianming, a student of the university, in an interview with China Central Television.
"Every week we got together to sing as a chorus. On the last day of 2021, we sang the song, Ling Hang, which is very beautiful," Ning Zhongyi, a deliveryman from Tianjin, told Beijing Business Today.
chennan@chinadaily.com.cn