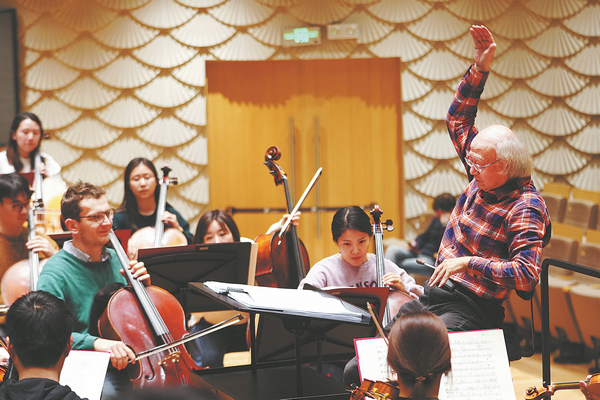 Under the baton of conductor Chen Xieyang, the Suzhou Symphony Orchestra and the China National Traditional Orchestra will perform a fusion of classical symphonic and traditional Chinese music at a gala on Thursday at the capital's Tianqiao Performing Arts Center. It will open the 22nd Meet in Beijing International Arts Festival and the Meet in Beijing Olympic Culture Festival.
Gathering creative team members, including director Tian Qinxin, scriptwriter Qin Xinmin, singers Cai Chengyu, and Tan Weiwei, the gala will also include appearances by Chinese athletes, such as short-track speed skater and China's first-ever Winter Olympics gold medalist Yang Yang, freestyle skiing world champion Li Nina, and world champion figure skaters Pang Qing and Tong Jian.
"The gala will bring a sense of musical fusion to the audience, combining classical music with traditional Chinese sounds. There will also be choral singing, dancing and soloists performing traditional Chinese musical instruments. It will be a nice mix of styles," says conductor Chen, 82, who is the artistic director of Suzhou Symphony Orchestra.
It will be the first time the group and the China National Traditional Orchestra work together, he adds.
The gala will premiere Glorious Overture: Flame, a new piece composed by musician Tang Jianping, which features melodies from Chinese classical music piece Meihua Sannong (Three Variations on the Plum Blossom) and Well-Tempered Clavier by Bach.