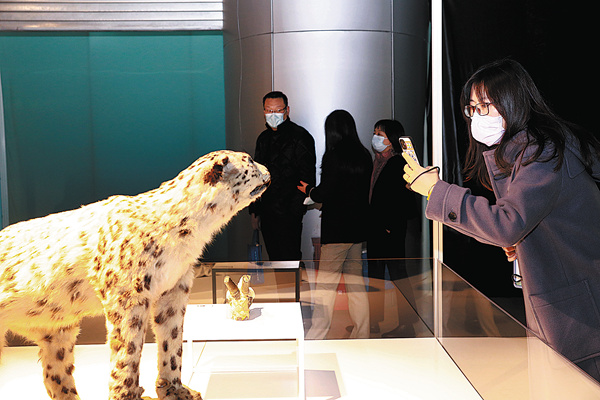 A new exhibition on the diverse ecosystem of the Yangtze River opened at the Shanghai Science and Technology Museum in Shanghai on Tuesday.
Aimed at raising awareness on environmental protection of the country's longest river, the exhibition features four chapters that use specimens and multimedia to showcase the different aspects of the river and its interaction with people who reside along it.
Forty-two animals whose habitats are dependent on the river, including the giant panda, the golden snub-nosed monkey and the Tibetan antelope, are shown as specimens at the exhibition.
Among them is a 5-meter-long endangered Chinese sturgeon and a 7-meter-long Chinese paddlefish that is already extinct. These creatures were the largest of their kind to be observed in the wild.
Wang Xiaoming, director of the museum, says the exhibition reflects the museum's efforts in supporting the national policy of educating the public about the river through popular science.
Spanning more than 6,400 kilometers from the Qinghai-Tibet Plateau to the East China Sea, the Yangtze region is home to more than 400 million people and considered a cradle of the Chinese civilization.
The museum has also developed a multimedia quiz for children and a landscape model of the Yangtze River Basin that shows the geological features of the river.
"The 10-year fishing ban along the natural waterways of the Yangtze River took effect this year," said Zhang Yimin, deputy director of the Yangtze River fishing administrative office, part of the Ministry of Agriculture and Rural Affairs, during the exhibition.
Zhang said the move, announced in January 2020, was vital in protecting and restoring the ecosystem of the river. "Such an effort requires the participation and support of the public."
The exhibition runs through May.