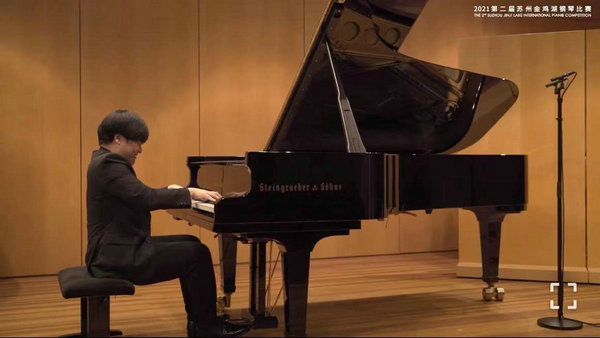 The 2nd Suzhou Jinji Lake International Piano Competition wrapped up on Dec 10, with the first prize going to Yonggi Woo from South Korea, second place to Robert Bily from the Czech Republic and Seunghyuk Na from South Korea and third prize to Chinese pianist Wang Xinran, South Korea's Jeongjin Kim and Russian pianist Aleksandr Kliuchko.
The first prize winner will be awarded $30,000 and all the winners will join in concerts by Suzhou Symphony Orchestra.
Initiated by Suzhou Symphony Orchestra in 2017, Suzhou Jinji Lake International Piano Competition, held every three years, attracted pianists from 10 countries this year. Due to the coronavirus pandemic, the competition was held online this year. Pianist and conductor Xu Zhong, Chen Guangxian, president of Suzhou Symphony Orchestra, and Laurent Bayle, director-general of the Cité de la musique-Philharmonie de Paris, were among the judging panel.
Pianist Park Yeon-min, the first prize winner of the first Suzhou Jinji Lake International Piano Competition, performed with Suzhou Symphony Orchestra in 2018.
Headquartered at Jinji Lake Concert Hall in Suzhou, Jiangsu province, Suzhou Symphony Orchestra was founded in 2016 and is one of China's most dynamic and youthful orchestras, gathering musicians from 19 countries.