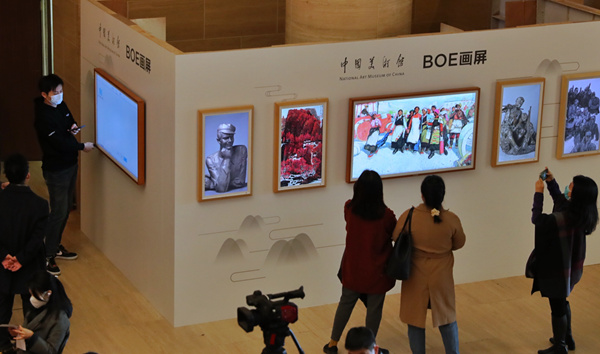 The National Art Museum's virtual presentation of 100 works highlights country's progress, Lin Qi reports.
Appreciating artwork, including those pieces in the collections of museums and galleries, through smartphones and other devices, is common, especially when cultural venues are under temporary shutdown and travel is restricted due to the COVID-19 pandemic.
The National Art Museum of China recently launched a long-term virtual exhibition on the BOE iGallery app, titled 100 Classical Works of Fine Arts in a Century, which shows viewers high-resolution images of 100 paintings, prints, sculptures and photos, primarily from the museum's collection that reflect the history of the Communist Party of China and the progress of the country since the early 20th century.
Featured works include those reviewing the rise of the CPC to answer a call from the grassroots to fight oppression and invasion. Among the exhibits is July 7, 1937, a painting made by the late oil artist Tang Yihe, in 1940, which depicts a group of college students during a march to call for people to stand up against the approaching Japanese invaders. The work on canvas is named after the date of the Marco Polo Bridge Incident that took place during the War of Resistance Against Japanese Aggression (1931-45).