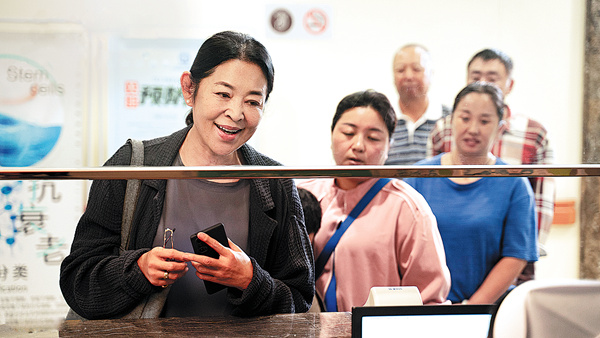 "The actual psychological counseling is mainly about dialogues, so the series takes a narrative route to present different cases in a vivid manner," she says.
"We created such a character wanting to tell people that psychologists are also normal people. When they help others, they get to know better about themselves and find solutions to their own problems. The biggest charm of He Dun is that she is just a normal person," Zhu says.
In order to better understand psychological counseling, Zhu visited the psychology faculty of East China Normal University and Beijing Normal University and interviewed trained psychologists.
However, for a while Zhu still did not know how to write the dialogues that psychologists start with their visitors. It took two to three years for the production team to polish the script.
"When the door of psychology opens, you will find it's a boundless ocean," she says.
"But we hope that audiences can know from this TV series about the causes of the psychological problems and what they should do when they have similar problems. We tried to offer a direction for the solution. This is why we need professional psychologists' help," she says.
For example, psychologists need to communicate with visitors at a fixed time and a fixed venue.
"Usually it is the one with psychological problems who visits the psychologist, not friends or family members. And, we should not expect the psychologist to visit the 'patient'," Zhu says.
In order to guarantee that the story is not misleading, behind each of the fictional psychological counseling cases are five to seven real cases, Guo says.
For example, the story of postpartum depression is a summary of about 10 real cases, Guo says, adding that they dramatized the story in order to make it more appealing.
"I hope the show is not a textbook or a PowerPoint file, but a good story. My bottom line is that it's not misleading and that highest expectation is that it can help to heal audiences," Guo says.
Apart from the scriptwriter, the show challenged the leading actress Yang, who played sweet and lively characters before. Bi, Yang and other cast and crew members went to Beijing Normal University before the shooting started to speak with teachers of psychology to help them become familiar with their roles.
"This time I've opened another door for myself by playing such a professional psychologist," Yang says, adding that she would like to take up more roles that can bring "positive energy" to others.
In her understanding, psychologists are therapists who save patients from issues such as "depression and mania".
"I have great empathy with every case in the drama because I've brought myself into the role as a psychologist, listening to the visitors carefully," she says.
For example, parents and children should communicate more and face family issues together, she says, adding that they could turn to a counselor for help if necessary.
Yang says she is impressed by the story of a "people-pleaser" who cannot reject others' unreasonable demands.
She also talks about the case of a sexual assault victim in the show.
"I hope viewers will pay more attention to their mental health after watching the series. If you are aware that you may have some psychological problems, you have to face it bravely and seek a scientific solution, rather than take a laissez-faire attitude," she says.