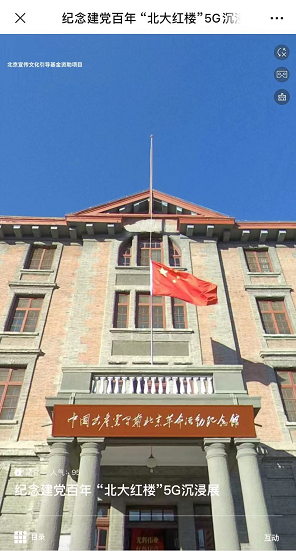 A multilingual version of the Peking University Red Building 5G immersive exhibition was launched online recently to commemorate the 100th anniversary of the founding of the Communist Party of China.
Using 5G and virtual reality technology, the program, run by the China National Publications Import & Export Co, presents a virtual display of eight important showrooms of the Memorial Hall for the CPC's Early Revolutionary Activities in Beijing.
Audiences can access the online exhibition by scanning the QR code and learn about the historical background of the Peking University Red Building in four languages--Chinese, English, German and Spanish, through both audio and text guides.
Apart from the online exhibition, this program also includes dialogues between doctoral candidates from the School of Marxism of Peking University and overseas students from Russia and Germany studying at Tsinghua University on topics such as "the spirit of the May 4th Movement" and "youths of Generation Z".