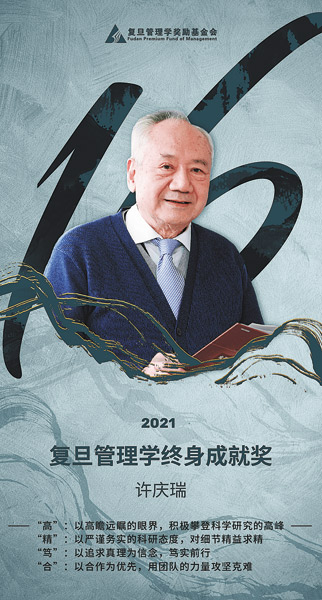 Five Chinese scholars and entrepreneurs who have made contributions to management science received awards from the Fudan University Management Award Foundation on Friday.
The foundation was launched in 2005 to honor those who have made outstanding achievements in the field of management in China.
Xu Qingrui, an academician with the Chinese Academy of Engineering and a professor at the School of Management at Zhejiang University, won this year's lifetime achievement award.
Xu was one of the first people in China to propose the idea that enterprises lie at the core of technological innovation and the theoretical system of technological innovation management with Chinese characteristics, according to Fudan University.
Xu, who specializes in the application of technology innovation in sustainable development, business management and education management, once led his team to conduct practical, in-depth research on Chinese companies, including at an oxygenerator manufacturing factory in Zhejiang province's Hangzhou city. Xu has also contributed to the development of majors at Zhejiang University that cultivate creative talent.