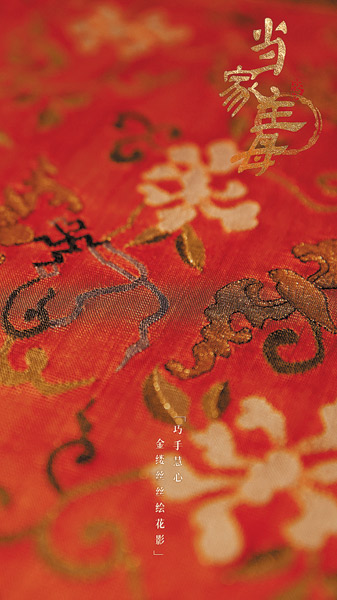 Citing the ancient proverb, "one inch of kesi work is worth one inch of gold", he explains that the artworks were expensive, mostly purchased by rich people or commissioned as royal tributes in ancient times.
An exquisite and lavish artwork made in kesi technique also conveys delicate emotions. For instance, one episode shows Shen teaching her favorite maid to weave a piece of tapestry called Wannian Ruyi (being joyful for 10,000 years), a time-consuming work that wishes young women to have a good marriage.
Shot between early September and late October in Hengdian, Zhejiang province, the drama also invited several kesi veterans to coach actors and actresses or monitor the filming, ensuring all details-from the placement of a shuttle to hand gestures-fit the reality.
Gu Jiandong, a local veteran in Suzhou who started to learn the technique in childhood, is the head of the group.
Operating a kesi studio of around 30 artisans in Suzhou, Gu and his team have made at least 60 pieces of props, from original works to silk replicas of ancient paintings in the style of Song Dynasty artist Ma Yuan's work Shui Tu (painting of water).
"Most of the artisans working at my studio are in their 50s. So, I am glad to hear that many young people are interested in talking about kesi since the drama started streaming," says Gu.
Gu says that China currently has less than 500 artisans who have inherited the technique, which is too complicated to be capably handled by machines.
He says he wishes the domestic industry can produce more quality films or TV series to promote traditional cultures.