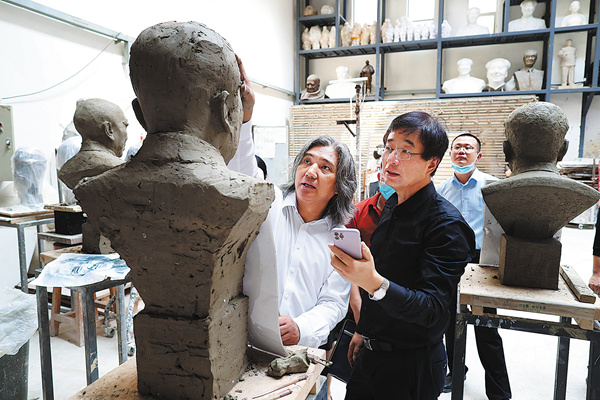 Peking Union Medical College seeks to inspire future generations of students with a series of sculptures depicting prominent figures from its past, Lin Qi reports.
Wu Weishan, a well-established sculptor and director of the National Art Museum of China, has created statues of reputed global historical figures from the world of medicine throughout the years, such as Florence Nightingale, the founder of modern nursing known as "lady with the lamp", Hua Tuo, a Chinese physician and surgeon from the second century, and Li Shizhen, a 16th century pharmacist and author of the revered Bencao Gangmu (Compendium of Materia Medica).
More than a year ago, Wu received a special commission from the prestigious Peking Union Medical College in Beijing to make a collection of busts of 23 eminent figures from the college's history, who also contributed to the development of Chinese medicine.
Wu views the undertaking, one of the largest projects of his career, as both a challenge and an honor. The commission celebrates this year's centennial of the completion of the college buildings as well as the 65th anniversary of the Chinese Academy of Medical Sciences.
Busts of nine former heads of Peking Union Medical College, sculpted by Wu, were unveiled in September on the college campus, seated in Beijing's central area, with the rest set to be installed at the college soon.
"From the very beginning, the college was built to introduce to the country the most advanced medical treatments and research in the world, and it trained some of the luminaries of modern Chinese medicine," Wu says.
Featured figures include Franklin C. McLean (1888-1968), the founding president who helped establish the high standards of teaching and research at the college, and Wu Jieping (1917-2011), who was trained at the college to be an outstanding urologist and who administered his alma mater from 1983-85.