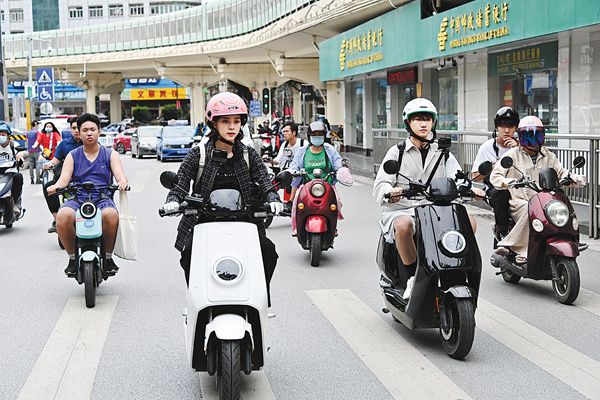 The Vicinity aims to rekindle the sense of community that shaped the nation's ethos by bringing together people from opposing lifestyles, Wang Kaihao reports.
Among those living a modern city life, many may not even know who their neighbors are. Nonetheless, for documentary director Zhao Qi, warmth between people is not gone, it just needs to be rekindled.
In The Vicinity, his documentary-style reality show, which premiered on Nov 8 online through Tencent, the director looks for the subtle and sentimental moments which reflect the simple, but sincere interpersonal relationships found in often neglected corners.
In each of the seven episodes, two popular celebrities will spend days working with locals, whether it's a group of errand runners who shuttle around the city helping people with day-to-day tasks or a herding family of the Kazak ethnic group.
Being taken out of their comfort zones, the self-exploration of the celebrities will enrich not only their own understanding of life, but also that of the audience.
"You can feel the general ethos of modern Chinese people," Zhao explains. "Wherever you go, people are kind, diligent, and willing to help each other.
"Some people (in the show) may work under difficult conditions, they may complain," he continues. "But they don't give up or tend to 'lie flat' (or tang ping, an online buzzword referring to young people who turn their back on what they view as overbearing social pressure and an overly competitive corporate culture). They demonstrate vitality, and that's deeply touching."
In the first episode, for example, the errand runners in Nanning, capital of Guangxi Zhuang autonomous region, ride motorcycles, run against clock to accept all kinds of trivial, and sometimes odd, missions. Occasionally, they are summoned only because the clients do not want to wash fruit or walk to pick up their deliveries. The situation is even tougher for one of them who is balancing the job with the duties of being a single mother.
Nevertheless, love and optimism still prevail in their seemingly mundane work. They may discover that the beverages they delivered are to celebrate a wedding anniversary. One rider makes full use of the time he spends waiting at red lights to write poems.
Zhao is known for his popular reality show Encounter, in which stars travel around the world on an adventure that sees them join locals in making crop circles or chasing tornadoes. The first season of that show gained 8.8 points out of total 10 on Douban, China's major film and TV review website.
The pandemic has made it difficult to continue that series, but as a spinoff, The Vicinity shares the same basic production ethos.