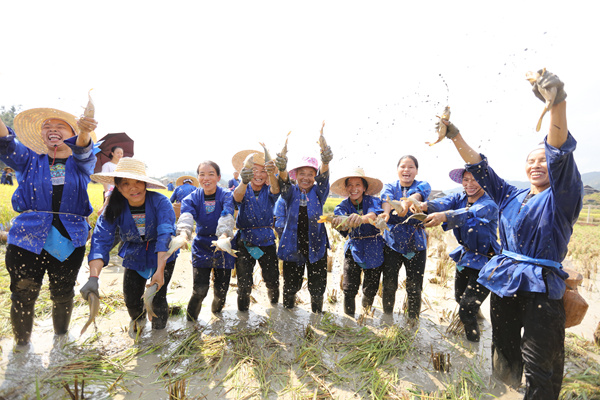 New method by farmers is helping harvest a tourism wave in South China's Guangxi Zhuang autonomous region, Yang Feiyue reports.
The fall harvest is always a picturesque time in the Sanjiang Dong autonomous county.
Farmers are busy harvesting the rice paddies amid the golden farmland and fishing the ponds in October, and the air was filled with joy and optimism for a big harvest in the county, in South China's Guangxi Zhuang autonomous region.
Wei Fahong seems content with the harvest from his family's farmland of 3 mu (0.2 hectares) in Linlue village of Sanjiang.
He reaped more than 1,500 kilograms of rice, which will bring his family an income of more than 10,000 yuan ($1,566).
Amid the high wheat straw in the pond, fish were fattened perfectly for the dining table.
Some farmers already celebrated harvest ahead of time with fresh roast fish.
"It's harvest season, and having fish is an auspicious practice that expresses our wish for a surplus harvest," says Shi Shilian, a villager from Sanjiang.