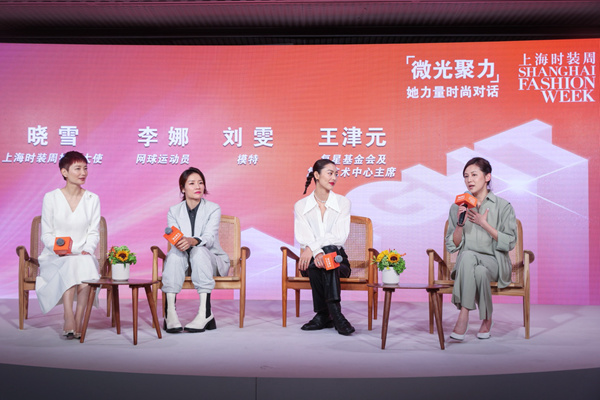 Forum hears stories of talent, success and strength in changing sector, He Qi reports in Shanghai.
Women's power has had a profound impact on the country and the economy with the improvement in career development and social status. This is especially so in the fashion industry, where women's power is becoming more and more dazzling, said Zhen Yan, former vice-president of the All-China Women's Federation, in a forum that was held at Fosun Foundation in Shanghai during the Shanghai Fashion Week.
Titled Her Power Fashion Dialogue and held by the Shanghai Fashion Week Organizing Committee, the forum used speeches and roundtable sessions to explore women's power and responsibilities through fashion with officials, artists and celebrities.
As the main speaker, Zhen shared information about the public welfare fashion events that were launched jointly by the federation and Shanghai Fashion Week since April, including Genius Mom and Dongxiang Embroidery.
According to Zhen, these fashion events helped women embroiderers from underdeveloped areas display and sell their intangible cultural heritage handicrafts to cities, helping to improve their living conditions.
"Half a year later, we came to Shanghai Fashion Week again. We saw more and more women playing leadership roles and showing their creativity. They forge ahead, unremittingly enthusiastic about public welfare, and help more women realize their self-worth with their own strength," Zhen says.
"Cross-disciplinary cooperation, as well as today's dialogue, are beneficial attempts at public welfare to join hands with fashion industry resources," she adds.