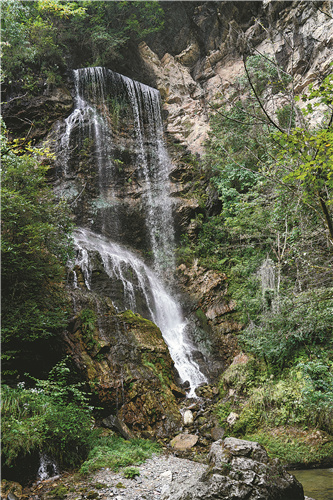 Shennongjia is said to be the place where the Emperor Yan once lived. Some visitors hope that they may even encounter the legendary yeren ("wild man"), China's equivalent of Bigfoot, in the remote mountains and virgin forests.
They do not actually see any "wild man", but they're attracted by Shennongjia's vibrant ecology, rich biodiversity and karst landforms.
Shennongjia's beauty varies over the year as nature takes its course. Tourists can enjoy flower blossoms in spring, be shaded from the summer heat, appreciate red leaves in autumn and go skiing in winter.
In 2016, China announced its ambitious plan of building 10 pilot national parks for ecosystem preservation, including in Shennongjia Forestry District, Central China's Hubei province.
Official data showed that tourist visits to Shennongjia Forestry District reached more than 15.5 million last year. By 2025, the forest area aims to increase that annual figure to over 30 million, with tourism revenue of more than 10 billion yuan ($1.57 billion).
Visitors can avail of a bus service if they do not drive. The journey to Shennongjia will take up to five hours from nearby Yichang and Shiyan cities. By July, it's estimated that Shennongjia will be connected to a newly built high-speed railway, making the mountainous region more accessible.
Between Nov 1 and Dec 31, tourists can buy a package ticket of the six major scenic areas in Shennongjia for 99 yuan, about 40 percent of the original price. The separate ticket of these scenic spots is half of the regular price.