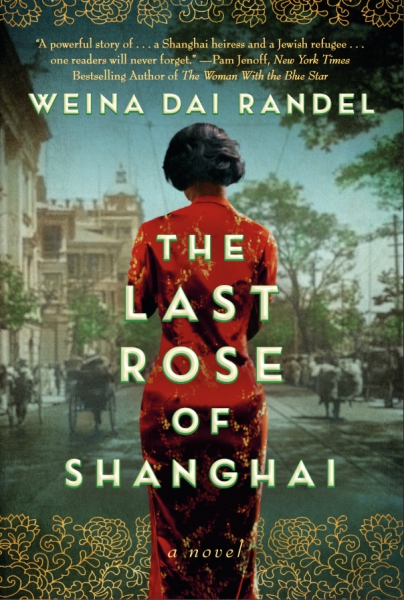 A passion for Chinese history shines in the fictional works of Weina Dai Randel, who earned praise for her award-winning historical duology -- The Moon in the Palace and Empress in the Moon -- spotlighting the epic rise of China's only female emperor, Wu Zetian of the Tang Dynasty (618-907). She has since turned her attention to the World War II era in her forthcoming book The Last Rose in Shanghai, which will be published on Dec 1. Set in 1940 under the shadow of Japanese occupation, the novel brings to life Shanghai's history as a haven for Jewish refugees as well as its dynamic jazz scene, all through a heart-rending love story.
Randel, who sat down for a Q&A about The Last Rose in Shanghai, shared with China Daily everything from what inspired the novel to how she approached her research to ensure authenticity.
What inspired you to write a historical novel highlighting the experiences of Jewish refugees in Shanghai in the 1940s?
Shanghai holds a special place in my heart as I used to work and study there. I was about 20 years old, and I used to walk past a red brick building on the way to school, and it was inscribed with "church" in Chinese characters, which I found out later was a synagogue. As a young woman with few pennies in my pocket, I shopped for maxi dresses and leather jackets on Huaihai Road lined with stalls and boutiques, drank the orange juice in Jimmy's Kitchen, and relished fried green onion pancakes at the night market and chicken sandwiches in KFC. Here, I heard the rumor that the local Shanghainese threw loaves of bread into alleys during World War II to feed the starving Jewish refugees, which still stuck in my mind years later.
Shanghai was magical, a pearl of light and excitement for the old and the young, a magnet for the talented and the ambitious, and it still is! But I didn't give much thought to writing a novel set in Shanghai until a good friend advised me to write a story about Shanghai Jews. I took her suggestion seriously and dove into research, and there, I believed it should be a story.