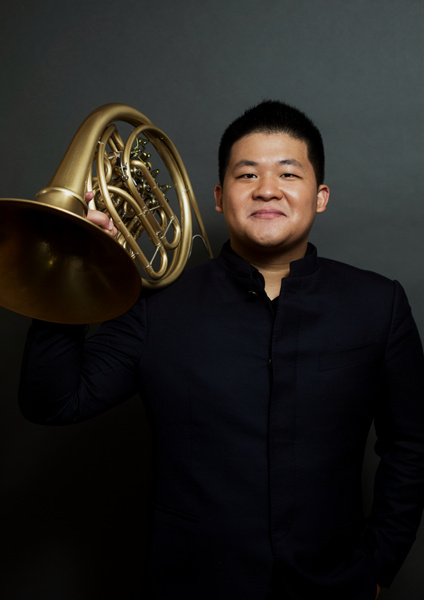 However, for the first time in more than 60 years, in 2019, a brass category and a woodwind category were added to the competition. About 46 contestants attended the auditions in the category, which made the competition fierce.
"I played many pieces during the competition and when I played June: Barcarolle from The Seasons, Op 37, by Tchaikovsky, I gained a different idea about the French horn," recalls Zeng.
"I had played that piece many times since I was a child. However, when I played it during the competition, for the first time, it sounded so beautiful and touched my heart. Maybe it was because of the atmosphere in the concert hall at that moment, or Moscow, a city full of romance," he adds. "It seemed that I found the secret to make my musical instrument sing, rather than simply centering on the techniques."
Russian conductor Valery Gergiev said, at the gala concert for the competition winners, which was held at the Mariinsky Theater in St. Petersburg on June 29, 2019, that Zeng's victory seemed to come out of the blue.
"The biggest surprise of the competition in the new categories was the young French horn player from China, Zeng Yun," Gergiev said.
Asked about the recent award he won during the 70th ARD International Music Competition, Zeng says that it was a totally different feeling from the Tchaikovsky competition.
"I was not nervous at all. It was more like attending a summer camp, where I could meet young musicians like me and listen to other people's music, than participating in a competition," he says.
He also says that the competition in Munich took place amid the COVID-19 pandemic and it was not easy to undertake international travel or for the international competition to happen.
"Musicians from different parts of the world finally got together for the competition. It's true that music unites people," Zeng says.
Since he was 15, Zeng has been trained by French horn player Wen Quan, who is also a teacher at the Central Conservatory of Music.
"Besides his solid techniques, I was impressed by his sensitivity for interpreting music when I first saw his performance," Wen says, adding that Zeng made history by winning those international music awards, which will inspire other young Chinese musicians, especially those who are learning to play French horn.
Keeping his regular training of two to four hours on a daily basis, Zeng says that he is keen on working with composers to create new pieces for the French horn.
"My father is a dedicated and disciplined musician. He never gets bored with practicing. He told me that the key is to enjoy music and have fun with it," says Zeng.