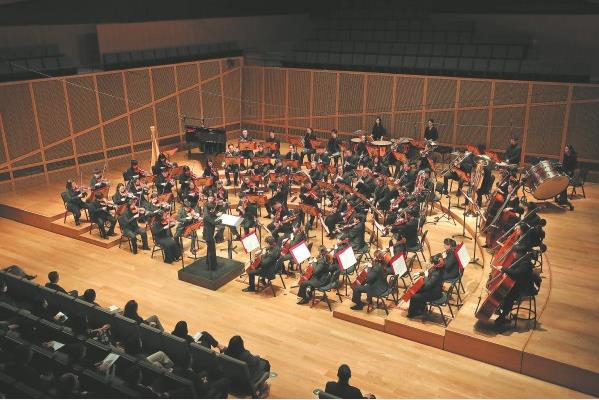 As the sixth president of the Juilliard School in New York for 34 years (1984-2018), the longest presidential term in the history of the school, Joseph W. Polisi, the sixth person to hold the office, traveled to China frequently before the COVID-19 pandemic hit.
In October, Polisi, 74, returned to China again, his first trip to the country after nearly two years. On Oct 26, he appeared at the Tianjin Juilliard School's campus dedication ceremony.
"When I came to experience this campus in person a week ago, I saw the beautiful roof, stones and trees. It's a great moment which I will never forget," says Polisi, who is also an accomplished player of the woodwind instrument, the bassoon. "We have worked for over 10 years to arrive at this moment, which is a time when we can celebrate the beginning of a collaboration between China and the United States that will flourish for many years to come."
Located in Tianjin's Binhai district, the Tianjin Juilliard School, a short high-speed train journey from Beijing, is the first and so far only branch campus of the Juilliard School in the world.
With a partnership with the Tianjin Conservatory of Music, the Tianjin Juilliard School's campus broke ground on June 15, 2017. Polisi had attended the event.
The Tianjin school offers programs for pre-college and graduate levels. The graduate school, which opened in fall 2020 with the first class of students, is taught in English and offers a US-accredited master's degree from the Juilliard School in New York. The opening of the Tianjin campus took place amid the pandemic, which had delayed the official campus dedication until now.
Peng Liyuan, the wife of President Xi Jinping, sent a congratulatory message to the dedication ceremony of the campus of the Tianjin Juilliard School on Oct 26.
"I hope that China and the US would conduct extensive people-to-people exchanges to boost mutual understanding," she said in the letter while lauding the Tianjin Conservatory of Music and the New York-based Juilliard School for their high-level art cooperation, adding that the two schools have enhanced people-to-people exchanges between the two countries.
"Art is a bridge that can transcend national borders and connect people's hearts and minds," Peng said in the letter. "The cooperation between the two countries in the area of education would help to cultivate more talents, advance cultural exchanges and mutual learning, and spread art and friendship."