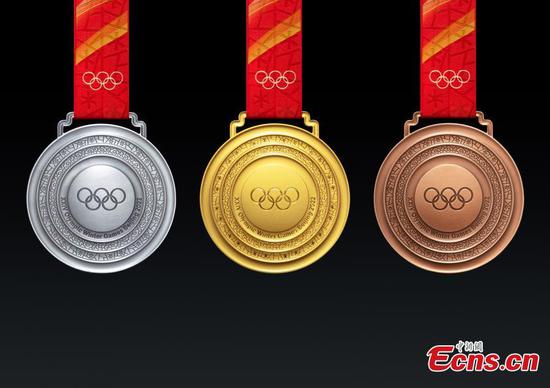 Beijing unveiled the 2022 Olympic and Paralympic Winter Games medals on Tuesday, inspired by Chinese ancient jade concentric circle pendants unearthed in the tomb of Nanyue King, Western Han Dynasty (206 BC-AD 24).
The "Tongxin" medal is engraved with the Olympic rings on the front, surrounded by ice, snow, and cloud patterns.
Concentric circle pendants are displayed in the promotion video of Beijing Winter Olympic medals. According to the Museum of the Western Han Dynasty Mausoleum of Nanyue King, the unearthed jade pendants reflect the Chinese belief that "jade represents nobility and peace".
The medal design highlights the contribution made by Lingnan culture and diversified Chinese civilization, bearing the message "Sharing the glory of Beijing Winter Olympic Games".
During Western Han Dynasty, jade pendants were buried with the dead in the hope of immortalizing the body and guiding the soul.