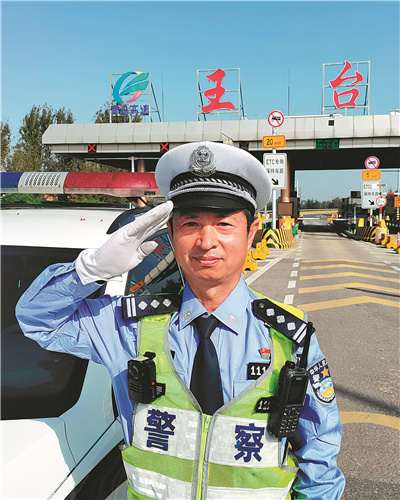 Many citizens in Qingdao, Shandong province, were familiar with a certain traffic policeman who eased congestion at the busiest crossroads in Shibei district with his high-spirited gesticulations.
His administration of traffic managed to not only lower the frequency of accidents and improve traffic flow, but also encouraged a better driving practice.
With a cheery demeanor, he would brighten the mood of those driving past by giving them the thumbs-up and a wide smile.
Sadly, however, that smile was dimmed around 1 am on Oct 3, when 55-year-old Li Yong sacrificed his life during a routine traffic stop at a bridged section of highway.
A suspected drunk driver refused to receive a breathalyzer test and attempted to escape through a highway guardrail that would have seen him plunge into a culvert.
With the suspect at an extreme risk of falling, Li immediately sprang into action, dragging the suspect to safety with help of his colleague, Zhang Chenggong.
The driver was saved, but Li fell into the culvert, injuring his head, Zhang recalls.
By the time the ambulance arrived, Li showed no sign of life. The following attempts to resuscitate him in hospital were in vain.
The news was a sudden blow to the city during the weeklong National Day holiday. People sent their condolences via social media.
Li joined the police force in 2005 at the age of 39 after 19 years of service in the military. He began working on traffic control in the downtown area of Shibei district and engaged in highway administration in 2017.
The respected policeman was well known for his zeal for work, as well as his kind-hearted personality.
With a behavioral and psychological study of driving practices, he invented 10 gestures, combined with the police whistle, to improve the efficiency of his work.
Some gestures lead drivers in the right direction, while some dissuade drivers from smoking in car or pressing on the horn. Others offer friendly hints about problems such as flat tires or unsecured doors.
Once practiced, the gestures were well-received by drivers and were promoted into use by other traffic police, both locally and around the country.
Tian Pengfei, a Qingdao citizen and a friend of Li's, was impressed with the innovative body language upon seeing him work for the first time at the crossroads in 2012.