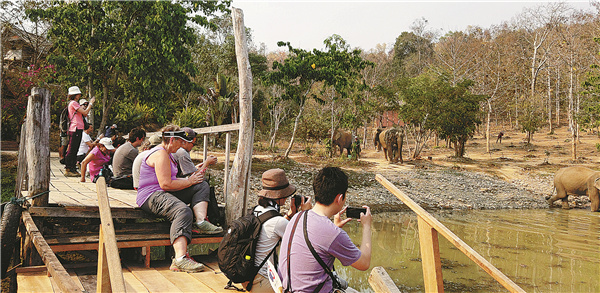 Usually, a captive elephant can live up to 90 years, while one in the wild lives for about 50 years, says Sun.
He tells many true stories in Raindrop's tale, though the elephant itself is fictional. Sun even created a blind elephant in the story, writing about how it grows up and explores the world with the help of its mother and other family members.
"What attracts me to them is the obvious fairness and love between family members. Adults take care of each calf as if it were their own," says Sun.
Sun's connection with elephants started on a late night in 2011. He watched, shocked, as an adult elephant from a circus stood stock still, seemingly ignoring the pain, as its keeper beat it again and again with a stick after they had finished their performance.
"The elephant was much bigger in size than its keeper. The beating obviously hurt it. But it just bore the pain in silence," he recalls, who was then a college student at China Agricultural University.
Feeling a deep sense of pity for the animal, he began his study of pachyderms, a task which has lasted for a decade and "will last for my lifetime", says Sun.
"As my study goes deeper, I feel like they're my family and have become a part of my life."
Sun says that he is a man of few words and is not good at dealing with people. He has loved animals since childhood. His family lives in the rural outskirts of Beijing, where they have raised animals and livestock since Sun was a little boy.