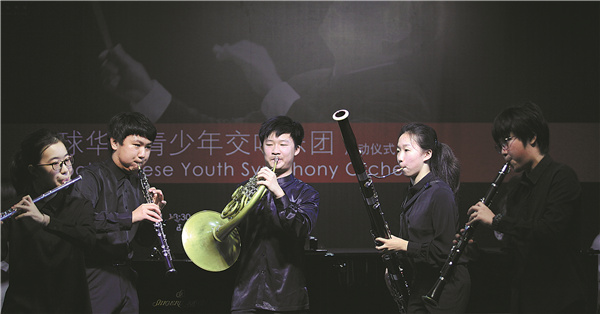 It was a regular Monday evening on Sept 27. Beijing's Sanlitun area, one of the capital's busiest areas for nightlife, was bustling with people, either hanging out with friends, having dinner at restaurants or shopping. It seemed to be out of nowhere that a group of young Chinese musicians gathered together and started to perform. The outdoor concert, featuring programs such as Czech composer Antonin Dvorak's Piano Trio No 3 in F Minor, Op 65, three short pieces by French composer Jacques Ibert and German composer Felix Mendelssohn's String Quartet No 2 in A Minor, Op 13, soon attracted an audience.
"All of the musicians are high school students. We want to showcase these talented musicians here in Sanlitun, which is a popular destination for young people," says Lyu Jia, veteran conductor and artistic director of the National Center for the Performing Arts.
After the concert, he announced the inauguration of the Global Chinese Youth Symphony Orchestra, a new platform for young Chinese musicians.
Lyu notes that the new orchestra is not only open to young Chinese musicians destined for a professional career, but also to learners, who take music as a hobby.
"What matters is their passion for music. We look for people who love music sincerely. They may become doctors, teachers or scientists after they grow up but music will always be a big part of their lives," says Lyu.