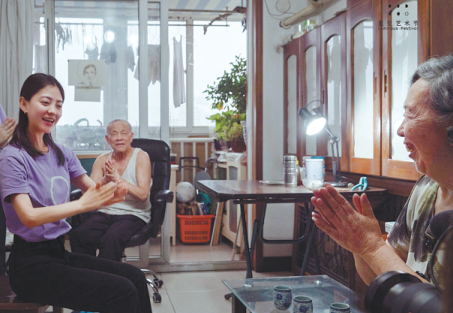 She believes that dance should not be a niche art form practiced by a small group of professionals. Gestures and movements are closely linked to one's mental state, so dancing can benefit everyone.
Also, interacting with others via dance can bring people closer, because some people can't communicate verbally.
"We hope to exert a positive impact on the minds of participants using physical practices. The elderly with cognitive disorders, for example, lack a sense of agency. They tend to feel they can't achieve anything on their own and fall into self-denial," Sun says.
"So, our improvisation part allows them to decide their own moves. It demonstrates that they can do whatever they want, and that it's OK not to be like everyone else."
Sun also learned from how the project affords attention to caregivers and family members. Home visits enabled her to understand their daily lives and the insecurities they feel.
Over 10 million people in China have Alzheimer's, according to a 2020 report by Alzheimer's Disease China and Health Times. Over 65 percent of their caregivers-mostly spouses and children-report severe psychological distress because they can't see hope of recovery. Their concerns include providing constant care, a negative effect on their social lives and sleep deprivation.
Li Xinsheng says she wasn't accustomed to her husband's illness at first and would often feel anxious and angry when he incessantly asked repetitive questions.
But time "took the edge off".
"Now, I'm very conscious of taking care of myself so that my husband has someone to rely on," she says.
"I have to take on a positive attitude and do things that make me happy. Otherwise, as time goes on, I'd become ill too. I'm actually very lonely. I can't have a proper conversation with him, so I started to learn how to draw and write to look on the bright side," she continues.
"I feel moved. For the first time, I realize that so many young people care about us. This disease really is a destructive blow for a family.
"I feel these young people have done something very meaningful. They've brought warmth to people with Alzheimer's, who are often left unnoticed and forgotten in a corner."