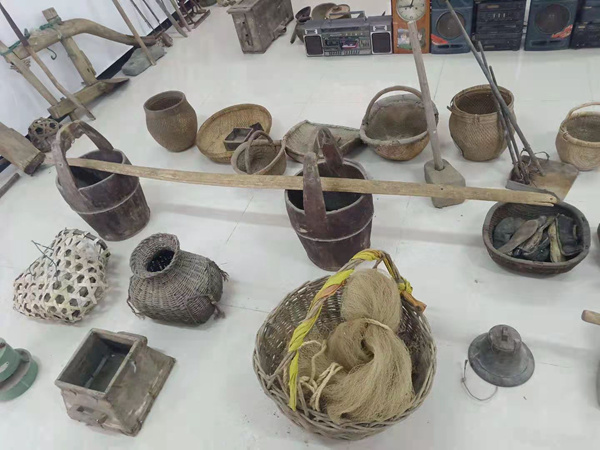 As soon as the site's historical value was realized in the 2000s, the wanton disregard for the surrounding environment stopped.
Rural output and animal husbandry have been scientifically managed, and polluting farms have given way to scenic green belts designed for sightseers and tourists.
"Everything looks much nicer and better organized now, and the air has become fresh," Yu says.
Yu's family was awarded compensation of about 40,000 yuan ($6,216) per mu (1/15th of a hectare) of land and was relocated to a nearby apartment building.
Local authorities have focused on the protection, inheritance and use of Grand Canal culture.
Since 2019, archaeological exploration has been carried out along the full 28 km to better understand the canal's condition.
The county invested more than 1 billion yuan in developing a cluster of 10 cultural facilities in the Grand Canal area, including the Sui-Tang canal and local family-traditions museums, a library and a theater.
The cluster covers an area of 30,000 square meters and provides sightseeing, intangible cultural heritage and performances, as well as social education.
Sixian is also planning a national-level Grand Canal park that will highlight the features of the Sui-Tang Grand Canal sections, as well as archaeological findings, Wang says.
After leaving home to undertake vocational education in Wuhu, Anhui province, and spending three years doing mechanical manufacturing work in Kunshan, Jiangsu province, Yu came back to the area in 2014, drawn by the allure of the Grand Canal.
"It was just thrilling to learn there's something to those childhood stories told by the elders," Yu says, adding that he couldn't help but imagine how an ancient emperor might have sailed down the canal and interacted with the residents on its banks.
He stumbled upon a collection of antiques after finding many rural household objects had been discarded, ranging from farming tools to daily necessities. Some, he believed, were over a century old.
"They had no use or space for them, especially after they got to move to a nice, modern apartment," Yu says.
Yu's hobby of collecting old coins and books in his childhood was rekindled. He went door-to-door, looking for antiques in his neighborhood, storing and displaying them in an old brickyard owned by his family.
"It was purely out of personal interest at first," he says.
But people began to knock on his door asking to see, and even buy, some of the old items.
"They were mostly visitors from outside the area, visiting after the canal section became well-known," he says.
It encouraged him to maintain the habit of collecting antiques.
"After a while, people started approaching me of their own volition, offering me things for my collection," Yu says.
Items included old-fashioned barn lanterns, flagons, copper locks, clocks, kettles, ceramics and abacuses.
In addition to the extra income from his antiques business, Yu says the greatest satisfaction lies in the interaction he has with guests coming his way.
"I love this land from the bottom of my heart, and I feel extremely happy sharing stories of its past and my memories of growing up on the Grand Canal with them," Yu says.