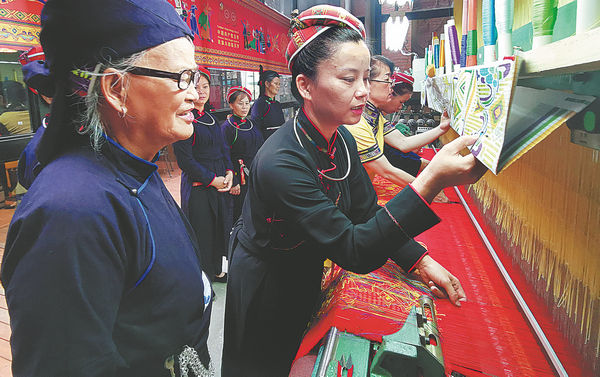 Less than a decade ago, Li Donglian had to leave home to work odd jobs, venturing out to neighboring provinces to make a living.
But in 2016, Li was given a life-changing opportunity to find her true calling-as an ethnic brocade weaver back in her own village of Banchi in the city of Chongzuo in South China's Guangxi Zhuang autonomous region.
"We are very proud of our traditional brocade. Many Zhuang women like myself have been weaving it all our lives. It's good that I can return to my roots to help more people understand and appreciate our heritage," says Li, 39, who is a fifth-generation Zhuang brocade weaver.
Zhuang brocade is deeply embedded in the traditions and customs of the region's major ethnic group. Archaeological evidence traces it back to the Western Han Dynasty (206 BC-AD 24).
Its bold colors and elaborate designs are based on ethnic symbols and motifs, ranging from geometrical patterns to flora and fauna, developed in the Tang (618-907) and Song (960-1279) dynasties and further improved throughout the Ming (1368-1644) and Qing (1644-1911) dynasties.
The invaluable knowledge and skills needed to produce Zhuang brocade make it a national-level intangible cultural heritage, part of a categorization system that recognizes the importance of conserving ethnic cultures across the country.
During a visit to South China's Guangdong province in October 2020, President Xi Jinping said proactive efforts should be made to train inheritors of intangible cultural heritage.
There are now more than 100,000 intangible cultural heritage-related listings in China, ranging from national to county level.
The latest measures to preserve and promote Zhuang brocade are making inroads at home and abroad, in turn giving local weavers such as Li the confidence to contribute to the development of their communities.
"Our project uses community skills workshops to bring together the preservation and productivity of this traditional art, providing residents with meaningful employment by giving them opportunities to promote their ethnic brocade fabric and other products," says He Ka, head of Guangxi Jinzhuangjin Culture and Art Co.
Her group's decadelong Zhuang brocade work in Banchi helped train Li, who in turn now trains nearly one-third of the more than 170 village households.
The arrangement of Li's team-whose youngest weaver is 12 and oldest is 76-allows the adult women to continue taking care of farmwork and family. Weaving brocade for a few hours a day can boost their income significantly, allowing a single household to bring in up to 20,000 yuan ($3,100) a year.