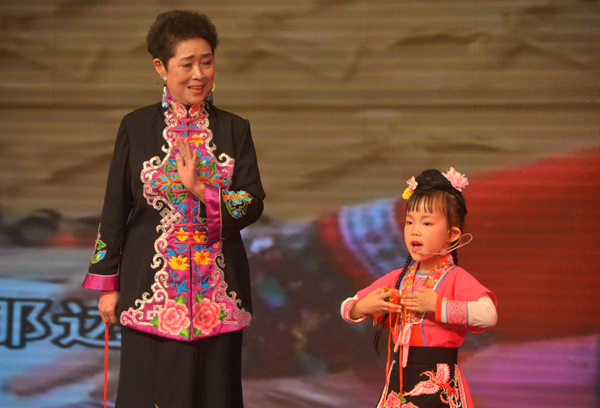 She is known more as Liu Sanjie, the leading character in the 1961 film of the same name, than for her other works
Huang Wanqiu, 78, an accomplished actress from Guilin, Guangxi Zhuang autonomous region, wrote a letter to President Xi Jinping to tell him about her latest achievements in the performing arts.
She was excited to receive a reply on June 3 in which Xi praised the film in which Huang starred in 1961-Liu Sanjie-and encouraged her to lead more performing artists to work for the people.
The film, which was an instant hit in China, as well as with Chinese people overseas, tells the story of an ordinary girl, Liu Sanjie, who has a gift for composing impromptu folk songs and who bravely fights for freedom in life and love.
The character of Liu is legendary in Guilin, a place known worldwide for its picturesque karst landscapes and diverse ethnic culture. It appears in written records dating to the Southern Song Dynasty (1127-1279).
For local residents, Liu is known affectionately as the "Goddess of song" and Huang's interpretation in the film carried her into audiences' hearts. Huang is better known as Liu Sanjie than for any of the dozens of other roles she played during her career.
Receiving President Xi's letter was an honor that makes her happy, Huang said, noting the president's cordial concerns. She will indeed continue to do her best to serve the people and the country, she said.
Huang said she had no idea that the film would become so popular in the 1960s. With her special talent for folk songs and her training as local opera performer in Guilin, she was the ideal choice for the role of Liu Sanjie.