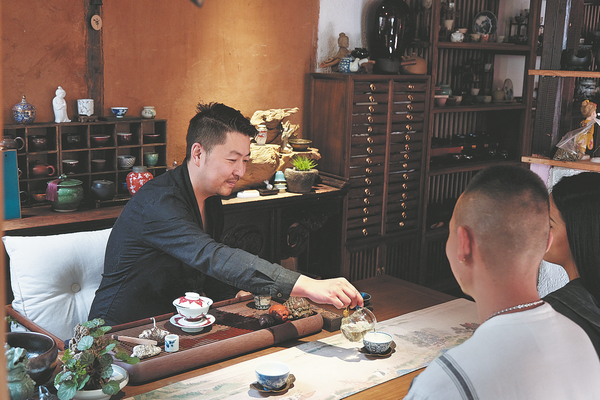 Chen He lost his pet dog a few days ago. The 14-year-old Scottish collie died in her sleep, leaving Chen, a guesthouse owner in Lijiang, Yunnan province, in sadness and with endless memories.
Burying the dog, named Hami, in a forest near his home, Chen, 43, couldn't help thinking of the day when he left Beijing nine years ago. Hami had accompanied him over the past years and witnessed the changes in his life and work.
It was in October 2012 when Chen quit his job at Volkswagen Finance China and drove more than 2,700 kilometers toward Lijiang, a tourist city in southwestern China, with good air, clear streams, snowy mountains and an undisturbed landscape inhabited by friendly people while being geographically remote.
Chen said his trip then was not for tourism purposes. Instead, he wanted to escape the hustle and bustle of urban life and seek something different that meant more to him.
As a pet lover, Chen was not willing to leave Hami behind in Beijing. He put the dog on the rear seat of his car, and together they started a journey toward a new life.
Chen said his decision to settle down in Lijiang was not an easy one to make but he never regretted it.
"At that time, I was tired of my life in Beijing, which was often hit by heavy smog and serious traffic jams. I had a busy work schedule every day. All those things made me wonder what life meant to me, and I felt I needed change," he said.
In the early 2010s, thousands of people working and living in big cities, such as Beijing, Shanghai and Guangzhou, capital of Guangdong province, chose to move to Lijiang, due to work pressure and surging property prices, issues hotly debated nationwide in recent years.
Over decades, many tourists have fallen in love with Lijiang's beautiful weather, stunning mountains, ancient spots and vibrant ethnic culture.
The place is the main home to the Naxi people, one of China's 55 minority ethnic groups.
The Old Town of Lijiang, which can be traced back to the Warring States Period (475-221 BC), was listed as a World Heritage Site by UNESCO in 1997. It was once the center of Lijiang city and continues to maintain the original flavor of local lifestyle through its typical architecture and the cultural heritage of the province.
Some kilometers from the old town area are located the centuries-old towns of Shuhe and Baisha, which are also very popular tourist destinations.
So, when Chen arrived in Lijiang as a tourist in 2005 for the first time, he immediately took to the place.
"I still remember the day when I arrived in Shuhe in August 2005. After taking a taxi to the old part, I walked on a stone path amid a drizzle. The idyllic beauty overwhelmed me suddenly, and I have to admit I loved it at first sight," he said.
However, during that trip, Chen did not imagine that he would choose the old town as a permanent home.
When he returned to settle down in Shuhe in 2012, he rented a two-story building with 13 rooms and a big courtyard from the locals, on a 20-year lease.
He decorated the building and started operating a guesthouse there.
As Lijiang is a destination for both domestic and international travelers, most local people have benefited from the development of tourism resources, Chen said, adding that a lot of non-locals also swarmed in 10 years ago to operate tourism businesses, with some trying to seek a different lifestyle like him.
"Tourism was very prosperous before 2016, so I earned a profit easily in the early years after I started the guesthouse business. Things are different now, and the market has become saturated. There are more than 3,000 guesthouse owners in Shuhe alone," he said.
The guesthouse business has provided Chen with sustainable income, and more importantly, he has found an enjoyable life. "The lifestyle in Shuhe is slow, easygoing and totally relaxed. There are no frequent business phone calls as there were in Beijing," he said.
"Life is a balance of what you are able to gain and what you might lose. For me, life doesn't mean a lot of wealth but something that can bring me joy and happiness from the inner peace of my mind."
While operating the guesthouse, Chen has made a lot of friends. He likes chatting with the guests, drinking tea and cooking together.
"Observing others' life sometimes makes me insightful," he said.
During peak tourist seasons such as school summer holidays in July and August, as well as the National Day holiday week in October, Chen is very busy with his guesthouse business.
During low seasons, he leaves Shuhe and travels outside.
Before the COVID-19 pandemic, starting November every year, he would spend two or three months in South China's Hainan province, where he bought a house years ago and likes enjoying the sunshine and beaches in winter.
The pandemic has affected international and domestic tourism, and that is true of Lijiang.
"Thanks to the decisive and effective measures taken by the Chinese government, the pandemic was basically controlled before the May Day holiday in 2020, and there were still a lot of tourists in the high season. So last year, the impact of the pandemic on my business was limited," Chen said.
The country's tourism industry has seen a slow and steady recovery.
According to government data, there were 1.87 billion domestic visits in the first half of this year, a surge of 100.8 percent from the same period last year, and more than 60 percent of that figure in the same period of 2019.
Although many guesthouse owners in Shuhe have closed their businesses due to the sluggish tourism market, Chen said, he still wants to stay there as he knows very well why he chose Shuhe as his second home.
"Since I decided to move to Lijiang, making money is no longer a priority," Chen said.
"I don't know what will happen in three or five years or beyond, but now is the best time for me."
caodesheng@chinadaily.com.cn