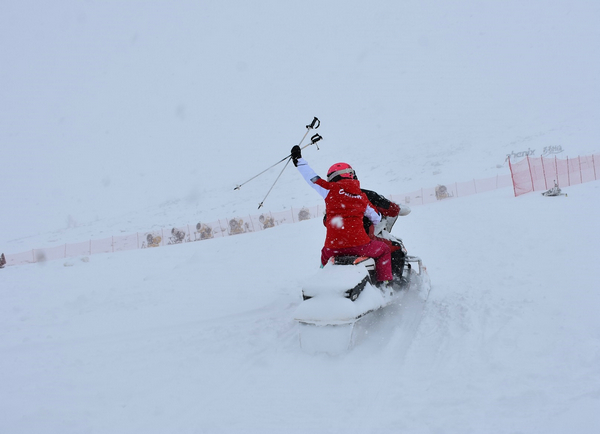 The Keketuohai International Ski Resort in Altay prefecture, Northwest China's Xinjiang Uygur autonomous region, opened to the public on Oct 1, becoming the country's first ski resort to kick off its new ski season this year.
Ski lovers and snowboarding enthusiasts from across the country have flocked to Fuyun county in Altay prefecture to glide down the snow-covered slopes in the resort on a day with heavy snow.
A newly built 4,300-square-meter ski equipment hall has opened, remarkably improving the resort's capacity to receive tourists.
"The ski resort provides better service for the new ski season. I've found that it has become more convenient for us to buy tickets online, and concessionary rates are also offered to us ski enthusiasts," says Meng Nan, a ski lover from Henan province.
"Currently, I can see red maple leaves, bright yellow silver birch leaves as well as snow-capped mountains in Keketuohai. The beautiful scenery here is another reason for me to travel such a long way from Guangdong province to Xinjiang," says Le Le, a snowboarding enthusiast who garnered 70,000 followers on the short-video-sharing platform Douyin for the snowboarding video clips she frequently posts.
Liu Cheng, Party secretary of Fuyun county, says that the county aims to further boost its ice and snow tourism.