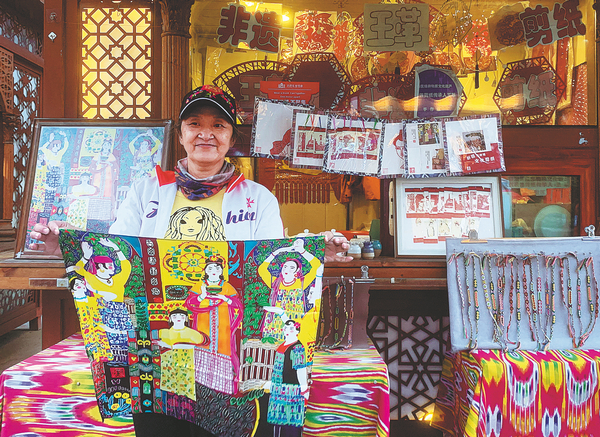 At the International Grand Bazaar in Urumqi, capital of the Xinjiang Uygur autonomous region, Wang Ge, a paper-cutting artist, runs a small booth where dazzling examples of her work are on display in the popular tourist destination.
With just a pair of scissors and paper, the 65-year-old indigenous craftswoman creates traditional festive animal paper-cuts, fruit, landmark buildings and even complicated dance scenes.
Wang is an inheritor of Xinjiang's intangible cultural heritage of paper cutting.
Growing up in the region and influenced by diverse ethnic cultures, she is committed to telling Xinjiang stories through her paper cutting while protecting and promoting the traditional folk art.
She has cultivated her craft since childhood and grew up in a family fond of the skill.
At the age of 4, she began to copy her grandmother and mother, using scissors to cut out patterns of flowers, birds, fish and insects.
Wang recalls her grandmother was skilled at cutting traditional window decorations for weddings and Spring Festival, while her mother embroidered lifelike paper-cut patterns on items such as shoes, cuffs and towels.
"Paper cutting is a combination of folk art and daily life," said Wang, who graduated from the art department of Xinjiang Normal University.
During her decades of paper cutting she has been inspired by real-life experiences, especially those relating to ethnic culture in the region.
She often travels to Kashgar, Hotan and Aksu prefectures in southern Xinjiang to explore how local ethnic people live.
One of her works features 20 people dressed in traditional costumes with musical instruments in hand, singing and dancing under a grape arbor.
Wang saw the lively scene at a village bazaar when she was traveling in Aksu.
"In villages in southern Xinjiang, bazaars are held often. When the market opens, people dance to the music. People spontaneously join in, dancing to the rhythm in a cheerful atmosphere," Wang said.
Their dance movements, reflecting everyday life, remain an integral part of paper-cut scenes.
"Such details can better reflect the warm, simple and hardworking character of the Uygur people," Wang said.
Skills upgrade
Wang also experiments with different paper-cutting techniques, including stippling, where an artist carves or cuts the patterns on white paper and then uses a brush to dot in colors.
The technique is used in a piece themed on the ancient Silk Road. The scene depicts a princess in the Tang Dynasty (618-907) and seven women in ethnic costumes.
It shows sericulture skills being taken to western regions via the Silk Road. Local ethnic women are taught how to raise silkworms and weave cloth.
The paper work, with rich colors, took Wang a year to finish.
The design has been used on scarves of Etles silk, the most popular material with Uygur women.
Many patterns of Wang's paper-cutting work have been incorporated in the designs of souvenirs such as cups and bookmarks.
She likes to introduce her artwork, and the stories behind each piece, to visitors to her stall in the Urumqi bazaar.
She often sticks her head out of the window of the small stall to talk to passersby. Sometimes, when she is in high spirits, she goes outside the stall to show her works.
"The bazaar is a window on Xinjiang," she said. "I hope that I can spread Chinese cultural heritage to people of different ages and from different countries."
Xinjiang has issued policies to protect its intangible cultural heritage, including preferential rent for people promoting intangible cultural heritage in the bazaar.
Wang has been invited to teach the skills and history of paper cutting at five colleges and 19 elementary and secondary schools.
She has also volunteered to teach paper-cutting skills to physically challenged people and the elderly.
After the COVID-19 outbreak, Wang gave online lectures on paper cutting, attracting 100,000 viewers and teaching students unable to attend school how to cut the images of medical workers from paper.
Wang said she was pleased to see pupils who lacked colored paper painting the white paper red and green as a substitute artform.
Li Menghan, Song Jialing, Liu Xi and Lu Wenjie in Urumqi contributed to this story.
zhangyi1@chinadaily.com.cn