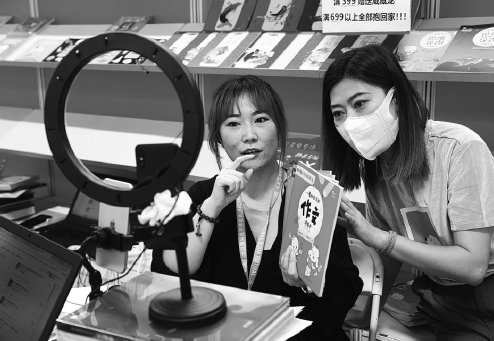 As the rapid development of information technology has changed, utterly, the way people acquire information or buy goods, publishers in China have to face challenges in creating and distributing products.
Gu Zhen, 33, editor at Shanghai Translation Publishing House, joined his colleagues recently at the studio that had been set up for selling books on the livestreaming platform of online shopping website jd.com.
The livestreaming lasts about three hours, covering the 103 books the publishing house has published this year. Gu's part started from 6:30 pm and ended at 8 pm.
He mainly introduced books he edited and was familiar with, including the translation versions of new volumes of Judge Dee Mysteries series by Robert van Gulik, The Wind in the Willows by Kenneth Grahame, Required Writing: Miscellaneous Pieces 1955-1982 by Philip Larkin, and Moby Dick by Herman Melville.
When he left, there were about 2,100 people watching.
"Many people watch the livestreaming not only to know about the books but for the coupons," Gu says.
The coupons allow people to buy books cheaper online with a discount of 50 percent or even higher, in addition to the perennial discounts that the online shopping platforms of jd.com and dangdang.com offer.
"It's one of the problems that publishers have been facing in the last decade due to the everlasting discounts online," says Shen Yu, 35, a former editor in Shanghai who worked in the industry for 10 years.
According to statistics by Beijing Openbook, a publishing industry consulting company, released at the 28th Beijing Book Fair, discounts offered by online shopping platforms have kept climbing, from 40 percent in 2020 to 43 percent in the first eight months of 2021, even higher than the 41 percent of 2019.