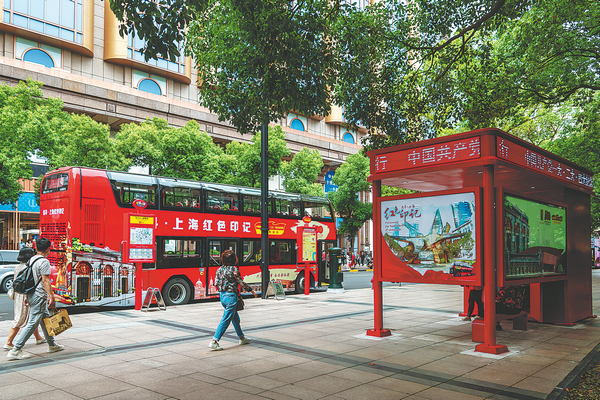 Cai Songxuan, a 23-year-old postgraduate student, didn't expect tears to flow as she watched a short video about military affairs in a panoramic theater in Beijing's Museum of the Communist Party of China.
But the presentation was too powerful, too real, to hold tears back. With images of aircraft dropping bombs from overhead, splashes of blood in a river and clouds of smoke rising from a burning forest, soldiers of the Red Army maintained order while crossing a floating bridge, carrying stretchers and supplies.
In another scene, a soldier tried to wake his dead comrade on a snowy mountain. Others were buried by an avalanche.
The theater itself was interactive, with snow and cold wind blowing into the room and tremors shaking the audience as the bombs exploded.
The history of the Long March was depicted on six huge screens that provided imagery from the ceiling above to the walls all around. The 3D effect, background music and lifelike sensation provided an immersive, thrilling experience.
"It was like traveling back in time. We can feel the pain and difficulty the Red Army experienced," Cai said, recalling a visit to the museum in July with her classmates. "I could not hold back my tears."
She had visited similar museums before but they all looked the same to her. But not this time.
"The innovation here gets rid of didactic historical education and invites us to learn and feel the stories of the Party and the spirit of past generations," she said. "I don't want to see museum posters alone. I want something I can be part of."