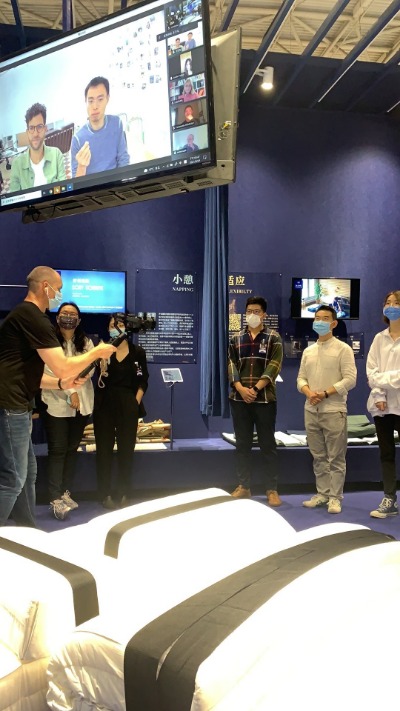 "Design China Beijing 2020" officially kicked off at the National Agriculture Exhibition Center on Sept 24 with a focus on deepening the concept of sustainability.
The four-day design event aims to provide a full interpretation of sustainable "beauty" through the green design and the mission of assisting the regeneration and restoration of natural systems.
Downland Bedding Company, Mate (reality) studio and Textile studio of the French Ecole Nationale Superieure de Creation Industrie, and School of Urban Design and home product design professional industrialization research studio at China's Central Academy of Fine Arts, jointly present their completed sleep research on display at the design event to showcase a series of products, services and concepts on the theme "Tomorrow's Sleep in Design".
"The accelerated pace of work and life in contemporary society has greatly affected our sleep patterns and quality. At the same time, differences in age, gender and occupation have completely different psychological and physical effects on sleep habits," said Li Mai, a mentor at School of Urban Design, Central Academy of Fine Arts. "The epidemic has brought many changes in life. Home isolation and home office have prompted people to re-examine their accustomed lifestyles and reflect on the lack of attention to personal health. At the same time, the demand for and awareness of sleep quality has increased."
To provide innovative solutions for sleep, Downland cooperated with French design studio Obvision to launch a sleep innovation research program in 2020. Their exhibits include 27 design concepts and a workshop. Audiences can experience a variety of resting methods and scenes. They can also discover the infinite possibilities of sleep, and the nature and personal sustainable development integrated into the works.
Downland has been trying to break through the definition of the traditional rest paradigm, and hopes to "upgrade the family sleep experience with technology" while implementing the concept of sustainability and inspiring more people to think about the sustainability of themselves and the environment, so as to lead a more healthy life.