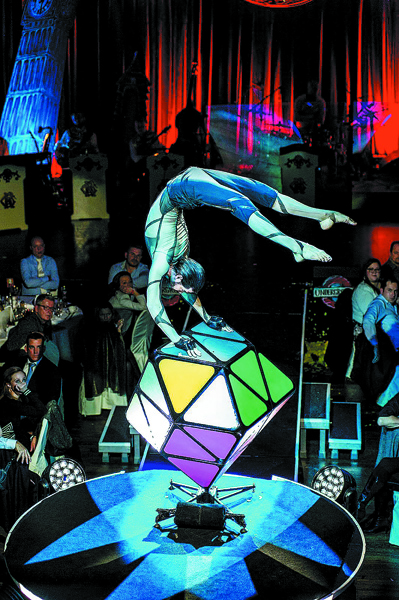 The 18th China Wuqiao International Circus Festival will be held between Sept 28-30 in Shijiazhuang and Cangzhou, Hebei province, with various online and offline events.
Thirty-five acrobatic shows from 18 countries and regions, including six from China, will be performed during three online galas, competing for awards at the biennial festival judged by a committee of 17 experts from home and abroad.
Meanwhile, 15 well-selected domestic circus performances from North China will be held during another online gala.
The opening and closing ceremonies will take place offline in Shijiazhuang and Cangzhou, respectively, with top-ranking domestic acrobatic performances that fully represent Chinese culture and spirit. It will be livestreamed online.
While the Guizhou Provincial Acrobatic Troupe's diabolo performance has costumes and stage designs featuring local wax printing, Hebei Provincial Acrobatic Troupe has created a new show to celebrate the upcoming 2022 Winter Olympic Games.
"We're honored to be part of the festival. Our show has combined acrobatics and magic with advanced technology, such as projection, to demonstrate our warm welcome to the Olympics with acrobatics," says Wei Yinshuan, head of Hebei Provincial Acrobatic Troupe.
The outbreak of COVID-19 has affected the domestic performing arts market greatly, including acrobatic shows.
"Due to the pandemic, the audience limit for an acrobatic performance is about 50 to 70 percent, but that means it's almost impossible to make a profit. I'm grateful to the performers who're still sticking to it," he says.
To prevent any outbreak of COVID-19, domestic troupes from medium- and high-risk regions and overseas troupes are not invited to the festival.
The local governments of the two cities will take rigid prevention and control measures during the festival.