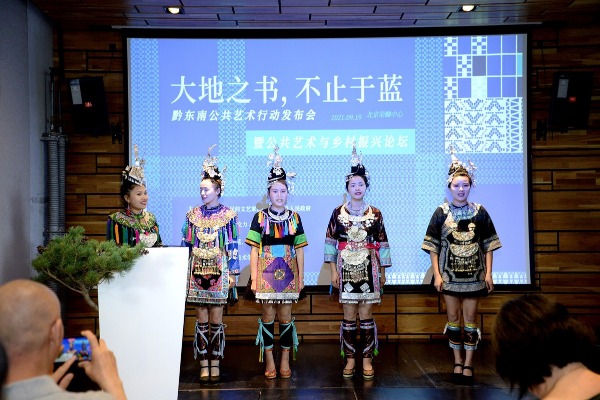 A public art initiative to motivate artists and designers to engage in the revitalization of rural areas was announced on Sept 20 in Beijing. It teams up figures from governmental organizations as well as the intangible heritage protection, art, design and creative industries to map out sustainable plans to utilize artistic resources in an effort to revive the social, economic and cultural landscapes in the countryside.
A forum was also held at the same day at which people from different fields discussed the initiative's upcoming practice in the southeastern region of Guizhou province, which is known for its enthralling scenery and rich folk cultures.
Wang Sha a mastermind of the initiative from China Academy of Art, says they hope to gather as many individuals and collectives as possible for this visionary experiment of rural vitalization, through effective collaboration with the local government. She says they will begin with the tradition of making blueprint fabrics, finding more creative solutions to make this long-standing craft play a bigger role in the development of southeastern Guizhou.
Qiao Xiaoguang, a professor of cultural heritage from the Central Academy of Fine Arts, said at the forum that rural revitalization has entered a transformational stage as a new generation is participating in the course, with a passion to learn from the countryside and meanwhile being equipped with modernized ideas, especially a mindset cultivated by the digital age.
Yang Qiong, a representative from Guizhou's Rongjiang county who supports the initiative, said at the forum that they will hold a blueprint art and culture week in October, showing the accomplishments they have achieved over the past years to make the blueprint industry a driving force for rural vitalization.