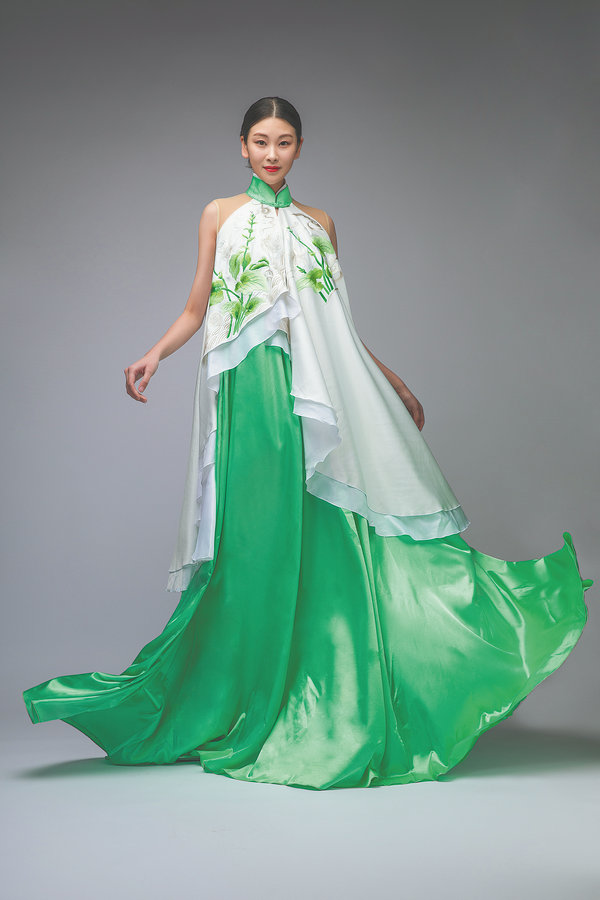 Yang Beibei describes her project, a series of fashion shows, Silk Road Impression-Chinese Fashion Art Exhibition, which she launched as curator, as "a window to showcase Chinese culture to the world".
In 2017, an exhibition showcasing 30 fashion pieces by about 25 contemporary Chinese designers, including Ma Ke, Guo Pei, Xiong Ying and Wu Haiyan, was held in Singapore, and curated by Yang.
Since then, she has worked with top Chinese fashion designers to introduce their work through the exhibition series, which toured eight countries, including Japan, Australia, Germany and Mexico.
In 2019, an exhibition in Egypt was held at an open-air theater in Cairo's renowned Opera House featuring a large collection of colorful dresses and costumes representing the essence of Chinese culture. Yang, who is also a veteran fashion designer, displayed her design through clothes inspired by China's 24 solar terms, a traditional calendar that summarizes different seasonal phenomena.
In 2020, she had to postpone the schedule of the fashion shows, planned to be held in four countries, New Zealand, Sri Lanka, Laos and Denmark, due to the COVID-19 pandemic.
To continue the journey, Yang, along with her team members, moved the fashion show to online platforms.
"The fashion shows have received warm feedback from the audiences worldwide because they get to know Chinese culture through Chinese fashion designers and their works. Though the pandemic forced us to change our plans, we still want to make it happen in an innovative way," says Yang.
On Sept 5, she displayed her works on a virtual fashion show and also gave a speech at one of the China Fashion Week's forums, with a theme of "Integration and Coexistence-Technology Reshapes Fashion", which was held in Beijing.
"Designers and brands embrace the latest technology to push the limits of design. Technology is transforming most aspects of the fashion industry, from the initial sketches, to fashion shows, to the individual online shopping experience," says Yang. "Virtual fashion shows benefit from the latest technology, which offer audiences an immersive experience."
Besides her virtual fashion show, Yang also brought out a virtual display of Suzhou's intangible cultural heritage items, such as weaving skills, Suzhou embroidery, Ming Dynasty (1368-1644) furniture and classical gardens of Suzhou.
Born and raised in Shangqiu, Henan province, Yang loved art as a child. Her father is an erhu (two-stringed bow) player and taught Yang and her younger sister to play the traditional Chinese musical instrument when they were children.