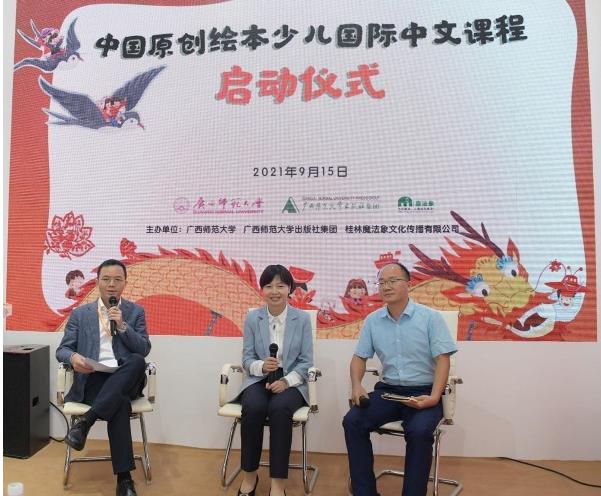 Co-organized by Guangxi Normal University, Guangxi Normal University Press and its subsidiary Magic Elephant Books, the project aims to develop Chinese language education courses for overseas children aged 3 to 6.
The project consists of four teaching models, audio, cartoons, text, and cultural extensions based on the picture books. It will provide teachers with systematic teaching materials and demonstrations, parents with systematic reading materials and activities that they can work on together with their children, and children with multimedia learning materials.
While children are reading the picture books, listening to the stories and learning the Chinese language, they can also know more about Chinese culture. The Development Project of Original Picture Books of International Chinese Courses for Children was launched on Sept 15 during the 28th Beijing International Book Fair.
Song Yongbo, deputy secretary of the CPC Committee of the Center for Language Education and Cooperation under the Ministry of Education, said at the launch ceremony that as the Chinese language keeps getting popular overseas, learners have become increasingly younger, which requires quality teaching resources of different levels and categories to satisfy increasingly individualized, differentiated and diversified needs.
"How to provide fresh content and formats for creative international Chinese language teaching through influential cultural activities, and help promote Chinese around the world have become important questions in creatively upgrading and effectively improving international Chinese language education in a new era," he said.
The project is a beneficial attempt to use cultural elements in international Chinese language education, he said.
"It is our hope that the project can use picture books as a bridge to promote the communication of languages and cultures between China and other countries, as well as the development of international Chinese language education," he said.