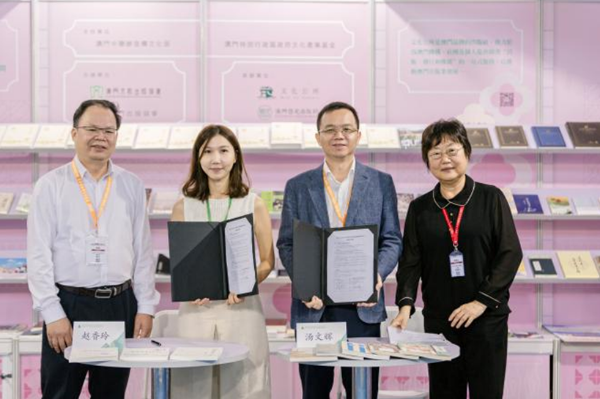 At the 28th Beijing International Book Fair, Macao publisher Hall de Cultura signed a copyright cooperation agreement with Guangxi Normal University Press on Sept 15, marking a new start for copyright cooperation between the two sides.
\Tang Wenhui, editor-in-chief of the university press, reviewed the cooperation between the two sides, saying that they had been using publishing to build a cultural bridge between the Chinese mainland and Macao. In July 2019, the seven-volume "Macao Oral History" series was published by the two respective publishers in the mainland and Macao.
Jiang Chun, vice chairman of the Association of Publication of Cultural Education of Macao, said that she was looking forward to future copyright cooperation between the two sides, hoping that Macao publishing circles can integrate with the mainland faster, work hard to become bigger and stronger, and fully play a role as a Portuguese platform in international copyright trade.