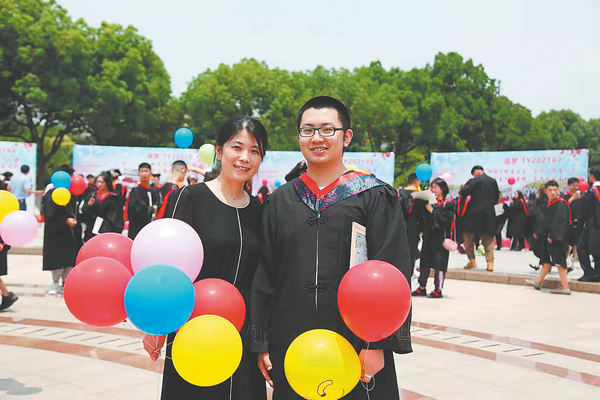 Gaining admission to a higher-education institution like Shanghai's Fudan University is something most Chinese consider to be an outstanding accomplishment, not simply because of the high academic scores required for admission, but also because of the intense competition.
Hundreds of thousands of students sit for the national college entrance exam, or gaokao, every year.
Fudan accepts only around 4,000 students per cohort.
Many people think that these circumstances, coupled with the fact that Xu Yiding has only one leg, makes his admission to the university even more extraordinary.
The university even went to the extent of highlighting his achievement in a news release.
But Xu doesn't seem to think much about the attention he has received.
"Whatever happened, happened. You just have to adapt and move along. Complaining about the situation is not going to solve the problem. Only optimism can lead to hope," says Xu.
Born in Jiangyin, Jiangsu province, Xu was known as a cheerful and sporty child who had a flair for studying. Everything was progressing smoothly in life and he seemed destined to fulfill his ambition of entering a prestigious university until he was diagnosed with osteosarcoma, a type of bone cancer, four years ago.
Xu initially thought that he could make a swift return to school after undergoing surgery, but complications from the procedure eventually led to drastic measures being taken-his lower left limb was amputated.
Despite this massive setback, Xu maintained a positive outlook. In fact, he was known for his hearty laughter during his time in the hospital. Then a boy, he even took to sharing his experience and positivity with other patients, encouraging them to find happiness in their misfortunes.
"Doctors told me that it would be great if every patient was as optimistic as me," Xu says, laughing.
Though he is no longer able to play soccer, his favorite sport, Xu now engages himself by devouring books and soaking up knowledge. He even credits reading to having helped him to solve certain problems in life.
Ma Ran, a teacher from Xu's high school, recalls that he was a diligent student who was always ready to lend a helping hand to his classmates.
"I have always believed that Xu's persistence would lead him to a promising future and motivate those around him," says Ma.
Despite his stellar academic achievements, Xu modestly points out that his admission to Fudan would not have been possible without the support provided by former classmates, teachers and family.
"The monitor who helped carry my bag, the teacher who picked me up in the rain and the schoolmates who pushed my wheelchair-it was their kindness that allowed me to devote myself to my study without worries," he says.
Today, as he prepares to embark on four years of undergraduate studies in microelectronics, Xu is hoping that he can do more than just inspire those around him-he also wants to contribute to the country's development.
"The independent research and development of microchips has been a core industry in China and is of great significance to national security and the development of science and technology. I chose Fudan University because it has the best microelectronics laboratories and platforms in China," Xu says.
He points out that having a prosthetic leg isn't something that will get in his way of his fulfilling this goal.
"The playing field is level as long as you are willing to study hard. It doesn't matter whether you have a physical disability or not," he says.
caochen@chinadaily.com.cn