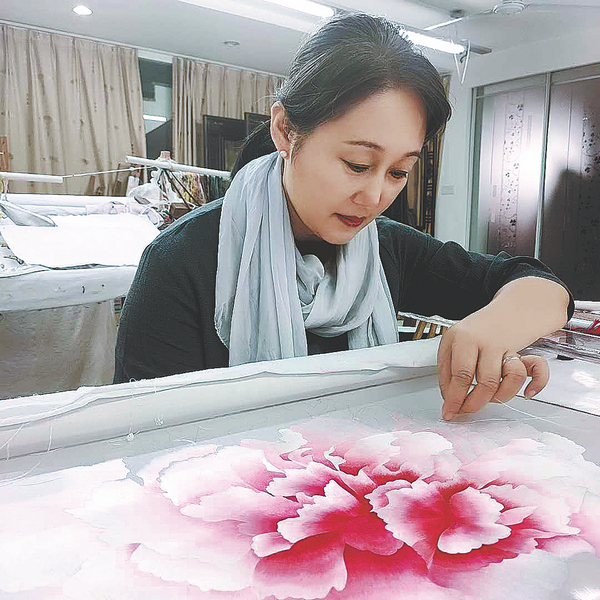 People who visit Yao Huifen's workshop often mistake her embroidery for paintings or photographs.
It is easy to see why. Yao's works look so realistic, like oil paintings, Chinese ink wash paintings or photographs.
Her Mona Lisa, the painting originally done by Leonardo da Vinci, and the breath taking beauty of many landscapes appear in vivid colors. Many of her works have been bought by domestic and foreign museums.
The inheritor of embroidery in Suzhou, Jiangsu province, was born into a family with a long history in the art. Her grandparents and parents worked in the industry. She started to learn from her grandmother and mother when she was little.
Yao's childhood was full of peace and joy. When she returned home after school, she first did embroidery and then played in the courtyard, which had flowers, trees and birds, as night closed in.
She also swam in the nearby lake, climbed trees and ran in the fields with her siblings. Influenced by her father, she always loved to read books about art and aesthetics. She attended lectures on philosophy and art innovation when she was growing up.
"You might not use the knowledge in the beginning, but what you read and what you experienced will eventually reflect in your works," says Yao.
For more than 10 years, she learned embroidery from masters of Suzhou embroidery and gradually became famous for her own skill. Elected as a promoter and ambassador of Suzhou embroidery, she has been to many countries for cultural communication, including the United States, France and Italy.
The embroiderer says she did not want to repeat herself, and hopes to bring the traditional craft to a contemporary audience. She has created her own embroidery technique that seems almost to abandon complexity and can present portraits in a simpler and purer way.
Yao says that traditional crafts should adapt themselves with the development of society, as every generation has its own aesthetics.
"Traditional handicrafts need to conform to the current aesthetics and cannot linger on the standards of old times. Embroidery techniques should also be improved continuously."
Yao suggests that embroiderers should open up new horizons instead of working in workshops all day long. She visits art exhibitions and museums at every opportunity when she goes to big cities.
Like many intangible cultural heritage items, Suzhou embroidery faces the problem of finding young people to pass the craft on to. The huge input of time and energy required to learn embroidery, Yao admits, has scared away many young people.
However, she takes it as her responsibility to attract and train enough inheritors. She cooperated with colleges in Suzhou to open an embroidery course and teach the students for free.
Yao has been teaching embroidery lovers at her workshop for many years. Some of her students have set up their own workshops and started to teach others themselves.
"To inherit embroidery, first you need to help the young people understand and love it, and then you can invite them to join the club," Yao says. "I believe that Suzhou embroidery will have a bright future."
Guo Jun contributed to the story.