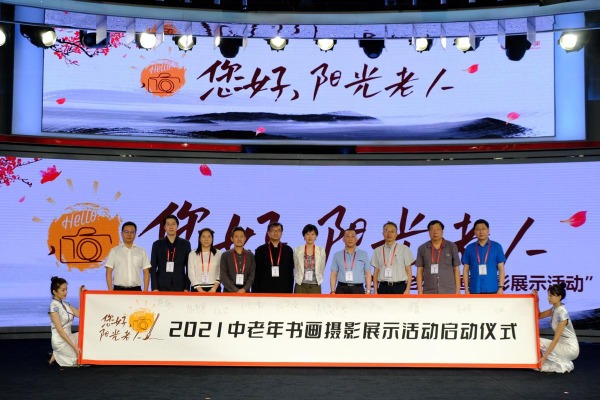 The works of elderly photographers, painters and calligraphers will be collected and judged in an exhibition in Beijing next spring.
At ceremonies launching the effort on Thursday, various experts shared their opinions about the role of art in the healthcare of older people.
Presented by Health People, the healthcare channel of People's Daily Online, the activity will highlight the spiritual lives of people over 50 years of age and put their talents on display.
Zhen Wei, a professor at Beijing Normal University's School of Arts and Communication, said calligraphy and painting play an important role in the cultural lives of the elderly, and can help to maintain their bodies' sensitivity.
As China has entered a period in which the average age of the population is increasing, concerns about quality of life and health in one's later years, both physically and mentally, are also on the rise.
Zhang Wenhu, secretary-general of China's Partnership for Safe Medicines, said it was not the responsibility of individuals only but also of society in general to improve the lives of middle-aged and elderly people and to help them develop greater cultural literacy.
Lin Nan, president of Baishan pharmaceutical company, said drug companies also matter in protecting the health of older people afflicted with physical ailments.
"Adjustment to an aging society will become a practical and experimental mission for every responsible enterprise in China," Lin said.
The company has created and patented a package designed to help the elderly keep track of medications. It packs medicines by dosage, with reminders of when they should be taken.
The collection of artworks will end on March 31, 2022, with exhibition of selected works to follow from April 2 to 30. Experts will then make further selections, which will be revealed in June.
Elderly people who want to participate with their artworks can scan the QR code to join the activity.
Feng Xiaojie contributed to this story.