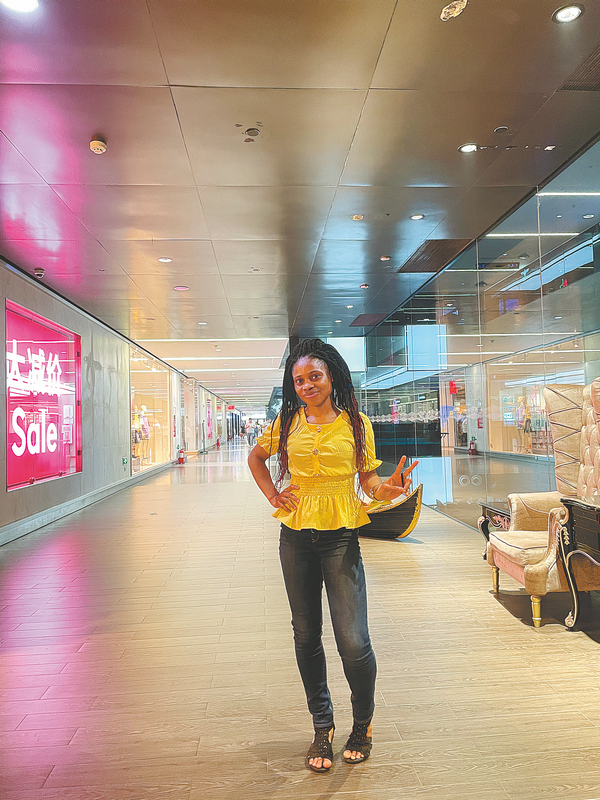 Many overseas students in Shanxi province have gained a better understanding of the province and China. This section, named Shanxi in the Eyes of Foreign Students, will tell their stories in the province and share what Shanxi looks like from their perspectives, giving accounts of the local environment, customs and culture, as well as their personal experiences.
When I was studying the Chinese language at a Confucius Institute in Nigeria, I developed a fondness of the Chinese culture and decided to study in a university in China.
That's why I came to Taiyuan in 2019 to study in a master's program in business administration at Shanxi University.
Despite my experience in the Confucius Institute for a certain period of time, I still found it was challenging to learn the Chinese language when I arrived in Taiyuan, the capital city of Shanxi province.
Although there were some courses for international students taught in English, I set myself a goal to fluently master the Chinese language during my stay in Shanxi, because I'm fully aware that Chinese is important for me to develop a career, considering China is now among the leaders in the international economy.
Every morning when I woke up, I would remind myself of my goal so I could refuse any notion of giving up.
The language studies were by no means easy, but I made progress every day with the help of my teachers and friends.
Making friends with locals and experiencing local life are the secret behind my steady progress in the language.
While helping me with my language, my teachers and friends have offered me the care that you can sense from your family. It's no exaggeration that it is because of them, I am given a home away from home.
While making progress in the language and academic studies, I've found I'm getting increasingly familiar with the culture and history of Shanxi.
This was made possible with my visits to local attractions and museums, where the preserved ancient relics and remains help me to understand what Shanxi or even China looked like centuries ago.
Life is enjoyable in Shanxi University because there are a range of activities that I can take part in. I even won awards at some cultural and sports events.
And my stay in Shanxi has become more pleasant when I found I was accustomed to and fell in love with local dishes like knife-cut noodles, mature vinegar and many other local snacks.
I will graduate from the university next year. I'm still not sure whether I will stay in China or return to Nigeria. But I know my emotional attachment to Shanxi and China will not fade for the rest of my life.
The author is a student from Nigeria, who studies at the School of International Education and Exchange at Shanxi University.