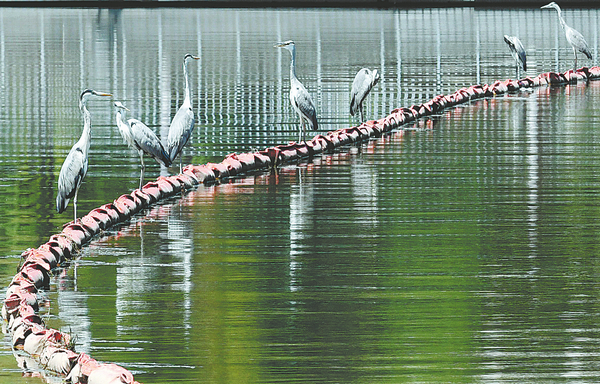 Local residents are finding that the second-largest river in Shanxi province is attracting wild birds thanks to its improved environment.
Han Min, a resident of Sixian village in Qixian county, said he has spotted an increasing number of wild birds while jogging by the Fenhe River recently.
"Several years ago, no one would like to jog or walk along the river and there were no birds in sight,"Han said. "Fenhe was almost a dry river throughout the year. If there was some water, it was stinky."
He noted that Shanxi's campaign to develop an ecological tourism belt along Fenhe has brought a fundamental change to the river.
The plan, started several years ago, was designed to turn riverside areas into a new attraction for tourists, a pleasant habitat for humans and wildlife through efforts to control pollution, increase water supply and green both banks of the river, according to local officials.
Han said after he gets up at 5:30 am, he usually jogs for about an hour along the river. He has noticed there is an increasing number of sightseeing tourists.
"Seeing the river becoming cleaner, air becoming fresher and more wild birds coming, I told myself that should be what a good life looks like," Han said.
The changes that locals can sense are not limited to the environment, but more business opportunities and new sources of revenue.
Sixian is known for its high-quality pears. The fame of this produce has increased as more tourists come and taste the local fruit.
According to Han, the pears are now sold to more regions of China due to tourists' word-of-mouth recommendations.
Shanxi began to harness and improve its rivers about a decade ago.
Shanxi's innovative practice is to appoint chiefs for each river. A river chief is usually the head of the local government according to each section of the river. It can be the head of the township, county, city or provincial government.
There are a total of 18,000 river chiefs in Shanxi and their responsibility is to ensure that the rivers can maintain a good water quality and good ecological environment.
To ensure sufficient water supply to each major river for a better environment, Shanxi began to build a project to divert water from the Yellow River four years ago.
Since 2017, more than 1.5 billion cubic meters of water has been diverted from the Yellow River to Fenhe, making sure that there is enough water in the river.
The increasing water volume in rivers has also ensured the irrigation of farms and supplies of clean drinking water to rural residents.
Wang Hu, a resident in Lecheng village in Yonghe county, said drinking water used to be a major challenge in local life.
"We used to fetch water from a mountain spring more than 4 kilometers away," Wang said.
But this changed three years ago as a water supply project was built for his village, according to Wang.
By the end of 2020, more than 94 percent of rural residents in Shanxi had access to clean drinking water supply. The rate was 6.5 percentage points higher than the national average, according to the Shanxi Department of Water Resources.
Wu Jia contributed to this story.