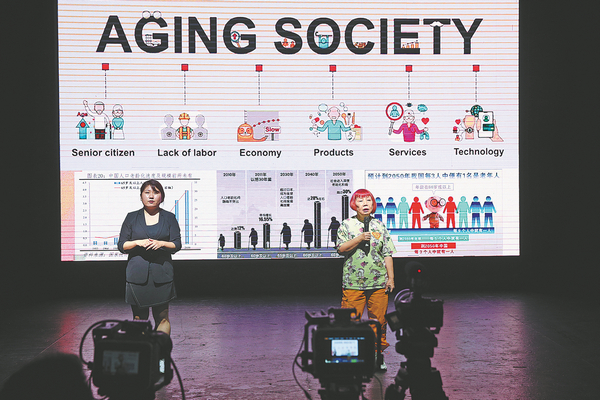 Pink bob haircut, green T-shirt with tiger and floral prints, orange cargo pants-curator and art critic Victoria Lu cut an appropriately dazzling figure at the third edition of Luminous Festival.
This year she turned 70. At the festival's opening day forum on "a more imaginative aging society", she shared her personal experience in aging, or based on her personality and mentality, the lack thereof.
"I'm alive and kicking every day. I'm still a useful person. My dears, I'm a useful person," she emphasized in her speech at the opening of the festival, as a guest speaker.
"If anyone ever discriminates against me because I'm 70, I protest. We as a society should not judge people's value, career development or social class by the simplistic standard of age."
Last year, the accomplished artist completed her first film, Re: Promises, a documentary capturing the aging processes of four people-her parents, her husband and herself.
In the film, she candidly opens up about the distressing minutiae of taking care of her family members suffering disorders commonly seen in the elderly, and that underneath a youthful and vibrant appearance lies her difficult experience of coming to terms with aging.
"Everyone gets old. Old age is just a state of life that we all have to face. Our society has been talking about providing for the elderly, but has our society ever thought about the value of the elderly?" Lu asks.
Because growing old is normal, she says an aging society is not something to be fearful of. The question is: How can the elderly prove their value to society.
"Today our discussion should focus on how to allow the elderly to live with dignity. With their knowledge and experience, they can still give back to society and their contributions to society should be respected."