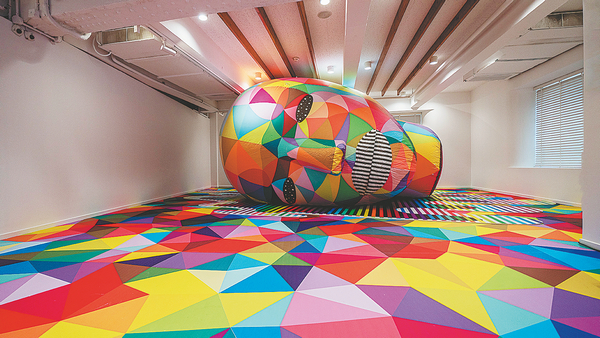 Spanish artist Okuda San Miguel's colorful work is being shown in Shanghai for the first time at the Kaos Trip: A Colorful Journey by Okuda San Miguel exhibition at the Bund 18 Jiushi Art Gallery.
The exhibition opened on Aug 21 and will run until Oct 24.
One of the most influential contemporary artists in Spain, San Miguel's public art creations have been widely viewed around the world. His Shanghai showcase features 17 sets of paintings, sculptures and installations.
The 40-year-old has a distinctive artistic vocabulary that "blends classical theological themes with different visual and cultural elements such as contemporary street art, pop art, surrealism and even mystical aesthetics", says Zhu Ling, curator of the exhibition, which toured Guangzhou, Guangdong province, and Shenyang, Liaoning province, last year.
Kaos Trip takes up much of the public space on the second floor of the gallery, a historical structure built in 1923. Zhu hopes that the colorful nature of San Miguel's artworks will "penetrate the century-old brick walls" and add new vitality to the building.
Stepping into the first chapter, visitors are greeted by the iconic installation, Explosion Head. Laid on the ground, the 6-meter-long artwork forces visitors to turn their heads and change their perspective to view it.