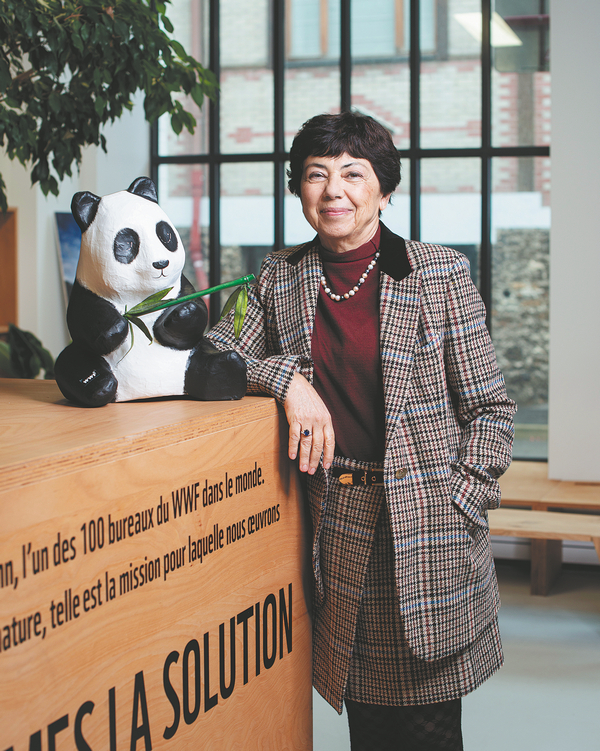 For more than 10 years, Monique Barbut, a former executive secretary of the United Nations Convention to Combat Desertification and special envoy for biodiversity to the French president, has been committed to making the Earth a better place by tackling environmental problems.
Having visited China on a number of occasions, Barbut says she was impressed most by her first visit to areas affected by land desertification in China in 2014-the second year of her official term as UNCCD executive secretary.
During the trip, she went to Baijitan Desertification Control Farm in the Ningxia Hui autonomous region and met the farm's head Wang Youde, who made a deep impression on her for his efforts in fighting desertification.
Born in 1953, Wang has spent most of his life on the farm. In the past decades he led his colleagues to build 40,000 hectares of sand fixation forest and managed to control nearly 66,660 hectares of sandy land, effectively preventing the expansion of the Maowusu Desert.
"It's amazing that a man was able to save local farmers," she recalls, "on low incomes and battling a harsh environment through restoration of the degraded land and development of a land-based economy, planning diversified cash plants, goji berry, and dates, and boosting development of environmental tourism."
The trip also brought her an opportunity to visit Kubuqi Desert in the Inner Mongolia autonomous region, where a green miracle is being realized, with the turning of the barren land and sand hazards to forest and grassland vegetation and agroforestry to support local livelihoods.
In the following years, Barbut visited China almost every year-in 2015, 2016, 2017, and 2019. "In different areas of the country, each time I find new progress, which makes the region more beautiful in its landscape and more developed in all aspects of the city," she says.
According to data from NASA, about 25 percent of the world's increased green leaf area from 2000 to 2017 came from China.
Between 2016 and 2020, China established a large number of natural reserves, covering 18 percent of its total territorial land. Those reserves have protected 90 percent of the country's plants and 85 percent of the wild animals, according to the National Forestry and Grassland Administration.
In last year alone, 6.77 million hectares of forest were planted and more than 2 million hectares of sandy land was kept under control through vegetation improvement.
Also, the country has initiated its first pilot program to construct grassland nature parks last year, with 39 pilots having been launched, covering a total of 147,000 hectares of grassland in 11 provinces and autonomous regions.
Barbut says she is impressed by the government's ability to take action and mobilize the participation of the entire society in terms of protecting the environment and tackling problems or related threats.
"The Chinese government takes commitments seriously. Once the decision is made, all factors in society could be mobilized for implementation. Other factors that are also important include confidence and persistence, the principle of respecting science and respecting nature, and caring about people," she says.
China's greening efforts have not only improved its environment, but also benefited the people. Within the last year, the total output value of the forestry industry hit 7.55 trillion yuan ($1.16 trillion), according to the NFGA.
In August, a senior official from the administration announced the country's greening aim in the next five years, in which forest coverage will hit 24.1 percent by 2025 and the country's forest stock volume will reach 19 billion cubic meters.
"China has been running ahead, from land use planning, sustainable land management to related land-based business development. It has achieved 'zero net growth' in desertification and has achieved a continuous yearly reduction in the area of desertification," says Barbut.
She says she is quite familiar with China's "Two Mountains Theory"-lucid waters and lush mountains are invaluable assets, a key concept developed by President Xi Jinping that guides the country's sustainable agenda.
"This remark shares the essence of the basic concept of natural capital developed in the Western world," she says.
"We all agree good ecosystems are the natural capital of social economic development. The natural capital is infinite. Human beings must treat natural resources as invaluable assets, to conserve, protect and respect those resources and sustainably use them."
She says the theory goes very well with the idea behind ecosystem conservation, rehabilitation of degraded land to improve livelihoods and the environment, and finally land degradation neutrality.
"We must never destroy nature to develop. If we do the right things, in the right places at the right scale, we can live in harmony with nature and still achieve remarkable growth," she says.
Barbut emphasizes China has decades of science-based experience in combating land degradation. "Sharing its experience could help promote and benefit the sustainable development of the countries around the world," she adds.
Raising the country's "three north forest shelterbelt" program as an example, Barbut says the program, commonly known as the Green Great Wall, has vastly improved local vegetation coverage, significantly reduced the intensity of dust storms and has also given people not just hope, but a bright future.
She says the program indicated the long-lasting dedication of the Chinese people and long-term persistent policy and strategy of the government. It also demonstrates the way and mechanism to ensure success of a long term.
"At the international level, it also gives confidence to the world that desertification is treatable and curable. Local livelihood can be obviously improved with improvement of ecological services and recovery of the natural resources," she says.
Barbut says she believes that China's Belt and Road Initiative, which aims to connect economic zones in East Asia and Western Europe to benefit the economic development of countries along the route, will bring new vitality to the green development and ecosystem conservation.
She says many countries involved in the initiative share common issues of land degradation, desertification and drought. This could encourage joint action from those countries and regions to address these issues through cooperative research, information sharing, capacity building and project implementation, as well as investment in green economy through public and private partnership.
"We hope for a strengthened cooperation in combating desertification, responding to climate change, and conserving biodiversity in parallel with international trade cooperation in the future. Then, strengthening cooperation in environmental protection along with trade cooperation will be very important for the sustainable development of all mankind," she says.
Contact the writer at yangwanli@chinadaily.com.cn