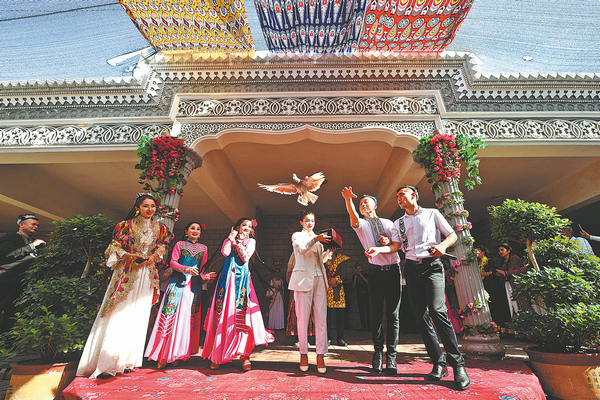 Xiangfei's bedroom features a display of satchels containing 88 varieties of Uygur medicinal herbs affixed to a belt to aid postpartum recovery, as well as a traditional bed, lathed wooden cradle and bone implements used to massage infants.
The study features traditional art and desks. The kitchen hosts ancient ovens, meat hooks and urns, as well as appliances for making yogurt, believed to counter the summer heat, and cheese, believed to alleviate the chill of winter.
The reception room contains a large seating platform that can accommodate dozens of guests. Each would be served seven or eight small individual dishes. Men would sit cross-legged, while women would perch on their heels or, if their feet felt numb, with both legs to one side.
The folk customs museum, located in one of the house's larger rooms, displays such ancient items as apricot-wood needles used to pierce girls' ears at age 3 that were threaded to expand the holes in their lobes.
Exhibits include clay-tile molds, handwritten Qurans, lamps, locks, tobacco satchels, spinning wheels, pottery and chests that doubled as pillows for merchants traversing the Silk Road.
Hats with almond designs hail to a legend about a time when Kashgar's army had fallen ill until they followed a local medicine man's prescription of six of the nuts with milk each day.
Pathways from the house lead through resplendent gardens with countless roses, reliefs and statues.
One ancient poplar on the grounds is said to have been planted by Xiangfei before she left for Beijing in homage to her hometown and her departure from it. A pair of "love trees" nearby happened to grow next to each other and appear to embrace. The towering poplar is likened to Qianlong, while the elegant elm is compared to his concubine.
A series of 16 stone relief images nearby tells Xiangfei's life story, including her brother's contributions to the imperial palace in Beijing, her romance with Qianlong and the return of her body to her home after her death.
Most rooms of a newly constructed multistory building nearby host multimedia performances with live actors, mannequins and holograms.
But the main attraction remains the resplendent mausoleum built in 1640.
The 17-meter-high structure, adorned with colorful glazed tiles, is said to be Xinjiang's largest domed building.
The size of the sarcophaguses hint at the identities of the occupants, with the women's being smaller than men's and children's being smaller still.
The mausoleum stands in front of a massive reflecting pool built after Xiangfei's death. It's said that it was installed because she often applied cosmetics while looking at her reflection in water, which was precious in the desert oasis.
A cultural plaza near the exit features the outdoor eatery, Xiangfei's Delicious Naan, where customers can watch crispy flatbreads being baked in tandoor-like ovens before savoring the final products.
Visitors to the nearby workshops can watch craftspeople producing traditional wares and folk art, from carving gourds into lanterns, creating jewelry and forging bronzeware to woodworking, pottery, sand painting and making walnut-wood plates, into which ornate designs are burned with hot metal. They can also shape ceramics, using wheels set in special areas where potters lower their legs into openings in the floor.
These crafts have changed little since Xiangfei's time, even though Kashgar has continued to stride into the future.
They serve as another umbilical link to this ancient matriarch, whose legacy still survives long after her death.
Contact the writer at erik_nilsson@chinadaily.com.cn