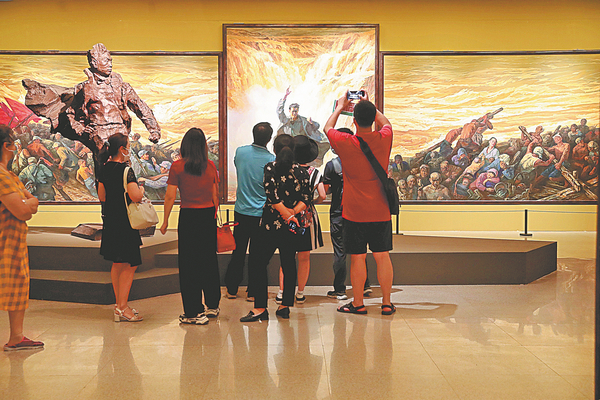 Among the first visitors to Surging Forward, a Yellow River-themed exhibition that opened at the National Art Museum of China on Aug 13, was Huang Jincheng, a 75-year-old painter, who stood in front of an ink-water landscape titled Longmen, Yellow River, quite excited.
The painting, which Huang made in 1989, depicts a grand view of the Yellow River roaring down through Longmen, a narrow gorge at the border of Shanxi and Shaanxi provinces. It was on show at Huang's solo exhibition at the NAMOC in 2004, and he donated it to the museum.
"I haven't seen the painting for quite a long time. I missed it so much," Huang said during the visit. "I'm touched that it has been conserved by the museum. It's an honor that it is on display at such an important exhibition."
Hailed as the "mother river of the Chinese nation", the Yellow River cultivated along its banks the country's earliest cultures. It is visualized in artworks as a symbol of force, self-improvement, inclusiveness and perseverance. In difficult times, artists have visited the motifs of the Yellow River to encourage people to hope for a better future.