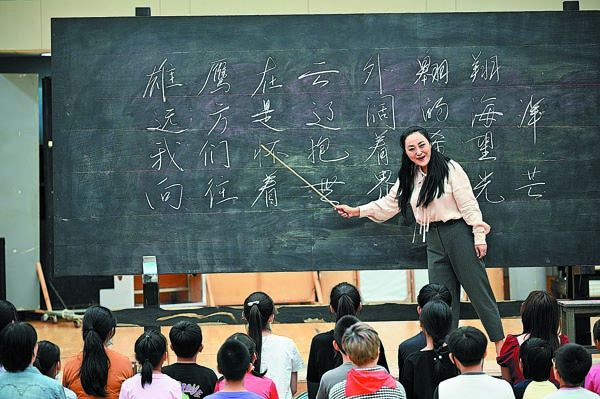 Two years after the 2009 opening of the National Center for the Performing Arts in Beijing, it premiered an original production of Chinese opera A Village Teacher, which received a warm and positive feedback of audiences.
Gathering creative team members, including veteran scriptwriter Liu Heng, composer Hao Weiya and director Chen Xinyi, the opera tells the story of Yang Caihong, a teacher who dedicated her life to helping and motivating young students living in a remote and mountainous village.
The opera appeals to audiences with its touching story, and melodic songs, featuring distinctive Chinese folk music elements.
A decade later, the same creative team again got together and worked on a new version of the opera, which, renamed as Summer Rainbow, will be staged at the NCPA from Sept 8-12. The China NCPA Orchestra will perform under the baton of conductor Zhang Yi.
"Back in 2009, one of the most important missions for the NCPA was to produce original Chinese operas. A Village Teacher proved to be a success. Now, we are restaging it, hoping to tell the same story with new ideas," says Wei Lanfen, the head of production department of NCPA.
"The opera is set against the backdrop of a Chinese village. Since Chinese villages are quite different from the situation 12 years ago, we rearranged the story and music to showcase what the villages look like today," she adds.
Wei also notes that the given name of the leading character Yang Caihong means rainbow, which symbolizes hope and happiness.
"A summer rainbow conjures up images of beautiful colors and a sense of freshness. It's just like the relationship of the teacher and her students," Wei says.
The composer Hao, who is known for writing an 18-minute sequel to the NCPA's opera production Turandot, has added more songs to the opera for a children's chorus.