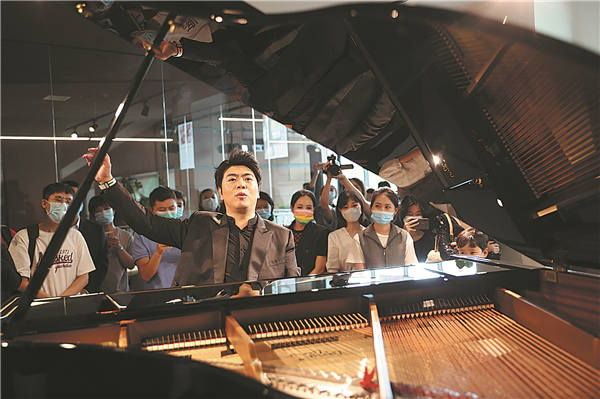 World-renowned pianist opens his studio at the Taihu art center in eastern Beijing, Chen Nan reports.
Renowned Chinese pianist Lang Lang visited the NCPA Taihu Stage Art Center in Beijing's Tongzhou district in June.
The stage art complex was launched in 2018 by the National Center for the Performing Arts, an iconic venue in downtown Beijing.
Covering an area of nearly 60,000 square meters, the art center has multiple indoor and outdoor theaters, rehearsal rooms and areas to keep technical equipment, costumes and sets.
During his visit to the venue, Lang also watched Chinese musicians perform in the outdoor theater at the Taihu Jazz Festival 2021.
When Lang entered an empty room, he was soon captivated by the view outside the window.
Wang Ning, president of the NCPA, who joined Lang on his trip to the art center that day, invited the pianist to use the room as his studio.
On Aug 20, Lang opened his studio at the art center. By then the once empty room had been transformed into a cozy work space: a meeting room, a small stage with a glossy, grand piano and a reading corner.
Lang's photos, albums and trophies are displayed in the studio, including an award certificate from 1989, which shows the pianist, 7 years old then, winning a piano competition in his hometown in Liaoning province.
"I have some ideas for the studio, such as workshops for children, meeting with my fans and inviting more musicians to collaborate. This is a place full of inspiration," Lang said at the opening while walking around excitedly.
He also performed extemporaneously with excerpts of Johann Sebastian Bach's Goldberg Variations, Frederic Chopin's Waltz in E Flat Major Op 18 No 1, and Yellow River Piano Concerto, based on the Yellow River Cantata by composer Xian Xinghai.