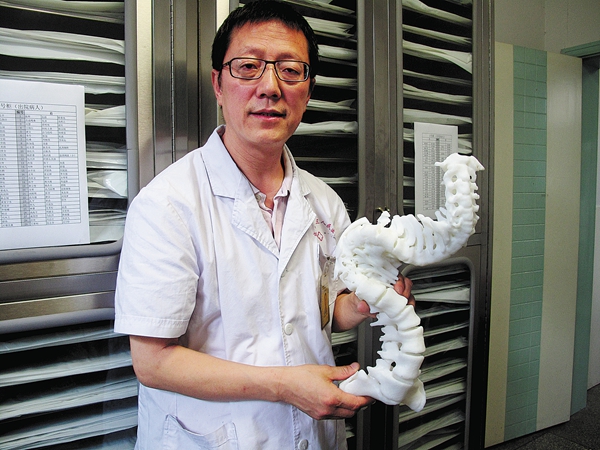 First-time visitors to the Third People's Hospital of Chengdu in Sichuan province are in for a surprise. They will see many patients donning something that looks like an antenna from a science fiction tale.
Members of the hospital staff proudly tell the visitors they are Doctor Liang Yijian's patients.
It is Liang's unique procedure that enables the municipal-level hospital to offer the best treatment for scoliosis (curvature of the spine) in the world, they say.
Liang, 57, head of the hospital's orthopedics department, has helped some 2,000 patients with severe scoliosis, who were previously thought incurable by other hospitals, stand tall.
The "antenna", made of four metal rods, is a patented corrective measure invented by Liang. The rods are inserted into a scoliosis patient's torso to help straighten the back before a surgeon removes the most protruding bone without touching the spinal cord.
A scoliosis patient's height may increase dramatically after the procedure.
Scoliosis is a medical condition in which a patient's spine has a sideways curve. It can damage the heart and lungs if the curvature exceeds 100 degrees, and a curve of that extent is difficult to treat.
But all the patients in Liang's department have a curvature of more than 100 degrees, says Xiao Qiang, a patient who was once treated there for two and a half years.
Xiao, 37, a native of the Bishan district of Sichuan's neighboring Chongqing municipality, had severe scoliosis since birth, with his spine deviating from the norm by 190 degrees.
He had visited 27 leading surgeons in different parts of the country before meeting Liang in March 2013. They told him there was no cure.
Liang inserted four metal rods into the upper part of Xiao's torso to form a brace that helped straighten his back.
The rods pulled his spine back into shape, and after two years the curvature was reduced to 70 degrees.
Liang then operated on him to remove any protruding bones. After the operation, the curvature of his spine was less than 50 degrees.
"Now I look normal when I wear clothes," Xiao says, adding that a normal person has a curvature of within 10 degrees.
Xiao got married in his home in Zhengxing town in Bishan in June 2016 and his daughter will turn 5 in October.
Before being treated by Liang, he was 1.54 meters tall. Standing at 1.77 meters now, he is a sales representative for a pharmaceutical company in Chongqing.
Juveniles are ideal subjects for treatment, but many scoliosis patients in Liang's department are already aged between 20 and 30.